LAU hosts world-renowned artist Romero Britto
LAU board member Thomas Abraham organizes philanthropic tour of Lebanon for the Miami-based artist, who met with faculty and students of the Department of Art and Design.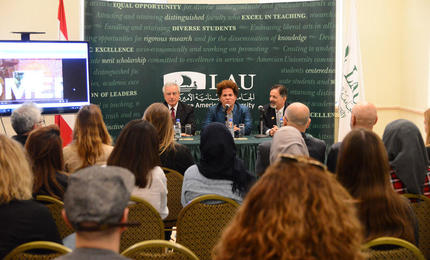 "I will leave Lebanon enriched and inspired and a self-appointed ambassador to the country," said world-renowned Brazilian artist Romero Britto yesterday during his visit to LAU. The Miami-based artist is spending a week in the country as part of a charitable initiative organized by LAU board member Thomas Abraham, chairman of the Anthony R. Abraham Foundation, named after his father, one of the founders of the Children's Cancer Center in Lebanon.
The center is among the many charities Britto has visited and engaged with during his time in Lebanon. "Romero is so independent, smart, and forward thinking. He never forgot where he came from and he is always giving," said Abraham.
In his introduction of Britto, LAU President Joseph G. Jabbra emphasized the important impact of the arts. "We need [them] to keep us civilized. When the arts are driven by a very optimistic view of the world, the sky is the limit. When the arts are passionately committed to good causes, then caring and love will prevail," said Jabbra, describing Britto as the embodiment of this vision.
Britto's colorful patterns, which he defines as reflections of his optimistic view of the world, now adorn stadiums, cars, clothes and the walls of many celebrity collectors. "I have been very lucky in my life and I want to use that to help others," says the artist, who this week donated a self-portrait for auction by Heartbeat, an NGO focused on helping children with heart disease. Over the past week, Britto has also enjoyed painting sessions with children planned by various non-profit organizations, attended dinners with Lebanese philanthropists and associations, and met with Prime Minister Saad Hariri.
"The people of Lebanon are so wonderful, and I've been sharing my experiences here with my friends and followers online," enthused Britto. "It's such a beautiful country, and I have a lot of friends connected to Lebanon who are big supporters of my work."
Abraham was one of the earlier fans of Britto's work and helped introduce the artist to the philanthropic community in Miami, which he endorses. "We all help and support each other. You have to go out there, and meet people," explained the artist during his talk at LAU, which was attended largely by faculty and students of LAU's Department of Art and Design. Asked by Chair Yasmine Taan about the relationship between design and art, Britto, whose works can be found in museums as well as on commercial products, said: "Everything is art. It's about creativity … I love sharing mine with people on a large scale, so I partner with companies and I exhibit in museums."
Britto's patterns are instantly recognizable and, while the mediums he employs have changed and expanded over the years, the central concept of colorful positive energy has remained. "I used to paint with my fingers, use newspaper, paint only in primary colors, and with time I added new elements and worked on sculptures then installations, but ultimately the process is the same. It all starts with a thought and inspiration."