LAU inspiration to acclaimed movie "Breakfast in Beirut"
Alumna Farah al-Hashim transforms the unforgettable memories of her college years in a cinematographic success that is touring the world.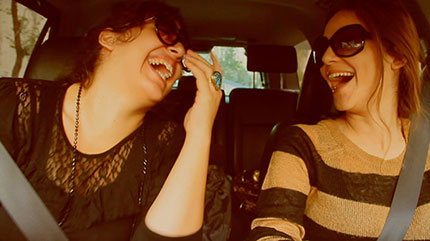 As her college days came to an end, LAU student Farah al-Hashim's only wish was to stop time. "I could not come to terms with the fact that my days at LAU and in Beirut were over," says al-Hashim, who grew up in Kuwait and moved back to Lebanon to study journalism between 2005 and 2009.
Cinema became the "magic wand" that allowed her to capture time. Her latest work, Breakfast in Beirut, stems from the desire to relive the emotions of those bygone days and explore the inexplicable, visceral bond that inhabitants develop with the city.
"Beirut is like a dream on hold, we try to get to where we want without being able to do so," says al-Hashim, adding that this often leads to a love/hate relationship. The interviewees featured in the movie – whose intimate tales of Beirut mix with the fictional story of a group of students and the memories of their college years – express their discontent while, at the same time, revealing a deep connection with the city.
"Perhaps the journey is what makes the dream special," says al-Hashim. Despite moving to the Unites States to attend the New York Film Academy, she never lost touch with Beirut, which she defines as "addictive." "There is a feeling of intimacy in the city which makes it unique," she says.
Breakfast in Beirut premiered in Lebanon in September 2015 and was sold out for both screenings. After its massive success at the Alexandria Film Festival and a nomination for "Film of the Year Award 2015' at the Lebanese Film Festival in Sydney, Australia, Breakfast in Beirut continued on its world tour, first in France then Italy.
According to al-Hashim, the film owes its success to the fact that it speaks people's minds. "My aim is for people to feel represented," she says, "but at the same time this film was also my own therapy."
Determined to make a film about Beirut specifically, the director refused any form of compromise. "I was offered funding for the film by different production houses, but the Germans wanted to turn it into "Breakfast in Berlin" and the Americans into "Breakfast in New York," she says.
Undeterred, al-Hashim shot the movie with no budget, natural light and no sound equipment. "I was working another job and living on canned tuna," she jokes. "I do believe you can make a movie with as little as one dollar in your pocket."
Through the voices of those who treasure childhood memories of Beirut and those who move there in pursuit of a dream, al-Hashim highlights the tangle of emotions that unites all her interviewees.
Her objective is to show the movie all over Lebanon and spread the message behind it. "If I were to summarize it one sentence," she says, "my experience in Beirut made me realize that living in a city that is not perfect is perfect in itself."