LAU institute refreshes Kuwaiti news editors' skills
KUNA senior editors participated in IMTR training sessions on advanced journalistic skills and new media terminology in Sharm El-Sheikh November 2-7.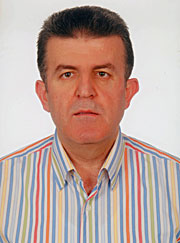 Dr. Mahmoud Tarabay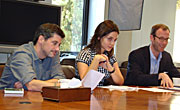 Mitch Prothero (1st from left) and Andrew Lee Butters with the moderator during the round-table discussion on December 1.
LAU's Institute for Media Training and Research trained senior Kuwait News Agency editors on advanced journalistic skills and new media terminology in Sharm El-Sheikh November 2-7.
The program aimed at familiarizing seven editors with the latest topics and trends in Arabic news writing and analysis. Participants attended "to update their writing skills [and] to learn better ways on how to write attractive and better-selling leads and titles," said Dr. Mahmoud Tarabay, who conducted the training.
The program mainly focused on how to report crises, such as wars, natural disasters, and grave economic problems. It is important to know "how to cover such major and sometimes dangerous events without forgetting one's safety," said Tarabay.
Following an extensive research on the newest media practices and terminologies, Tarabay, associate professor of communication arts and IMTR training consultant, designed a program tailored to the needs of the participants.
Trainees were acquainted with "words related to the case of the crisis in the stock market worldwide, [and] terms used after September 11 about terrorism, fighting terrorism, and the dialogue between civilizations," said Tarabay.
"We've had a long-standing relationship with KUNA," said Associate Professor Ramez Maluf, IMTR director. The institute was created this year with the consolidation of the Beirut Institute for Media Arts and the Institute for Professional Journalists.
In June 2006, IPJ organized a similar workshop in Beirut for KUNA journalists. However, the political events that followed were an obstacle for the continuation of such activities. Even this year, because of the May incidents, the organizers had to change their initial plan of organizing the training in Lebanon, and to choose an alternative venue in Egypt.
Despite these difficulties, Tarabay believes that "though many Arab countries can offer such a program, it is widely known that to get a diverse training you need to come to Lebanon."
The newly formed IMTR has embarked on a series of initiatives. Recently, it has become a member of the Euromed network of journalism training institutes through which schools of journalism in that region come together. Maluf was named network coordinator in October. He has also joined the Euromed Media Task Force, a 30-member EU-attached consultative body of media experts from Europe and the Mediterranean.
On December 1, the institute also organized a round-table discussion with two foreign correspondents working in Lebanon. Mitch Prothero, Middle East correspondent for The Observer and The National, and Andrew Lee Butters, Time magazine's Middle East bureau chief, talked to students about their experiences and perspectives on covering Lebanese stories.