LAU instructor's film gets celebrated boost
Professor of Cinematic Arts Alireza Khatami's feature-length film project Oblivion Verses is the recipient of a prestigious French fund grant.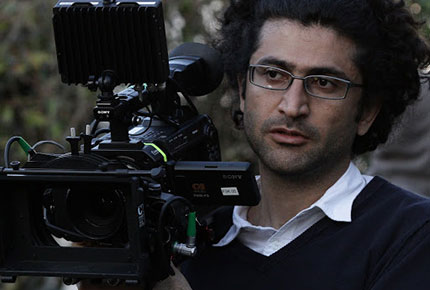 Alireza Khatami, Iranian filmmaker and LAU professor of Cinematic Arts has been selected by the prestigious World Cinema Support (Aide Aux Cinemas Du Monde) fund in France to receive a 140,000 euro grant. Out of the 14 projects to receive this competitive subsidy, Oblivion Verses is one of three first-time feature films.
"This is a major achievement and milestone for everyone that has been involved in the project," says Khatami, who has been working on this film for the past four years. Working with international co-producers, he has teams from four contributing countries – France, Germany, Holland and Turkey.
Dedicated to international co-productions, the French Ministry of Culture and Communication and the Ministry of Foreign and European Affairs jointly created this selective fund, which is managed by the Centre National du Cinema et de l'Image Animée and the Institut Francais. It is the world's most generous and competitive production grant that aims to support world cinema by fostering meaningful collaboration between French professionals and film directors worldwide, with a view to co-producing projects that would promote cultural diversity. The projects are selected by a committee of professionals for their artistic quality, as well as their ability to present new perspectives and ideas to the public.
"Being selected by CNC is an approval of the creativity and an acknowledgement of the hard work my teams have invested in this project," Khatami enthuses.
Oblivion Verses is a poetic narration of remembering as means of resistance. Set in 2009, during the Iranian Green Movement, the story revolves around a soon-to-retire morgue man who wishes to go above the bureaucracy and give an anonymous young girl shot dead by the militias the dignity of a proper burial. To Khatami, this film "emphasizes the necessity of remembering the forgotten moments as a precondition for resistance to come. Oblivion Verses pays a poetical homage to those who fight to offer justice to the unknown."
Not the first time to be recognized internationally, Khatami's film has won an award from the European Media Development last September. The script was also acclaimed by the Rotterdam Film Festival in 2011 and received the prominent Cinefondation Residency of the Cannes Film Festival in 2012.
This most recent accolade has a special flavor, however, as it lists famed Italian filmmaker and head of the 65th Cannes Film Festival, Nanni Moretti among the winners. "As an admirer of his work, it is a huge honor to be in his company as a recipient of this award," says Khatami.