LAU launches Gender in Development and Humanitarian Assistance Diploma
The "Gender in Development and Humanitarian Assistance" is the first diploma to address the full range of gender issues in the MENA region.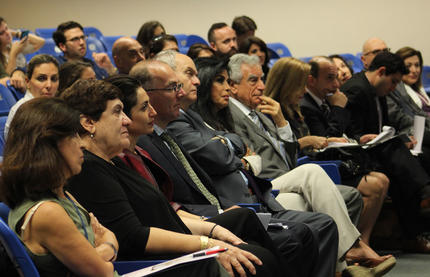 LAU's Institute for Women's Studies in the Arab World (IWSAW) has established the 'Gender in Development and Humanitarian Assistance' Diploma (GDHA) in conjunction with the Continuing Education Program (CEP), and the Human Rights Education Associates (HREA).
The GDHA program will address the different dimensions gender issues can take in relation to development and humanitarian assistance in the Arab world and beyond. It will meet an identified need for capacity building of specialists working for regional, national, and international agencies and provide sector professionals with the theoretical understanding and practical skills required.
The diploma targets policy makers and practitioners, researchers, academics, activists, advocates, government officials and students and will offer hands-on tools such as various methods of data collection, gender mainstreaming strategies and practical knowledge on how to address gender issues in the context of emergencies.
"We do not live in an ivory tower," said LAU President Joseph G. Jabbra at the launching ceremony held on October 21. "We have an obligation to respond to the needs of society." According to Jabbra, "the issue of conflict cannot be resolved without bringing women into the picture," and the academic world has a duty to help make this happen.
The Gender in Development and Humanitarian Assistance Diploma―which is set to start in 2017―consists of five core courses and five specialized courses, each consisting of 15 classroom hours. Additionally, single courses will be available to those wishing to gain insight into one precise aspect of gender in development or humanitarian work. It is also possible to customize courses for groups outside of Lebanon, and to provide fast-track diplomas as long as there is a group of at least 12 participants.
IWSAW Director Lina Abirafeh is the mastermind behind the new diploma. "There are superheroes out there who work every day to promote gender equality," said Abirafeh, "what we want is to provide them with the necessary tools to get the job done."
Abirafeh worked in close collaboration with Frank Elbers, executive director of HREA - an international organization that supports human rights education and trains human rights defenders. "Gender dimensions can be integrated into peace and security," said Elbers. "We expect participants to become active actors of change in Lebanon and in the region."
In order to cater to the needs of practitioners who are likely to have binding time constraints, classes can be provided remotely via video conferencing.
The launching ceremony was attended by LAU officials and academics, and distinguished guests. Dutch Ambassador Hester Somsen gave the keynote address. "Without women we get nowhere," she said in her keynote speech, adding "the GDHA diploma will produce ambassadors of the future for gender equality", underlining the importance and timeliness of the new diploma.
Get an overview of the GDHA diploma, the courses, fees and application.