LAU launches Lebanon's first arts summer camp
Middle- and high-school students can now register for a two-week intensive arts camp to be held in Beirut in July with classes in music, acting and dance.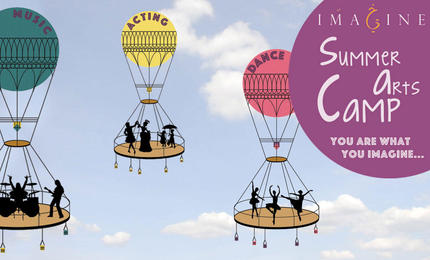 LAU's Department of Communication Arts has long been renowned for its theatre productions, concerts and dance festival, all of which result from the dedication and creative talent of the university's faculty, students and alumni.
This summer (July 10-21), middle- and high-school students (grades 6-11) will get a chance to benefit from this wealth of knowledge and experience through a two-week-long arts camp on the Beirut campus that includes classes in acting, dance and music.
"At LAU, we understand the value of art education, and we know how vital it is to the development of the youth and therefore the community," said Assistant Professor of Music Amr Selim, who spearheaded the initiative and will be running the camp's rock band classes.
Trained in Egypt and the U.S., and completing his first year in Lebanon, the celebrated French horn virtuoso says he finds inspiration in Beirut and its people. "Wherever you go, you find music being performed or enjoyed. Art is part of the Lebanese identity, but we found that art education in some schools to be lacking, and we want to change that by introducing high-quality music education to the scene through Imagine," explained Selim, referring to the thematic name given to the camp.
Chair of the Department Jad Melki agrees. "Children in this country love the arts and sports, but while there are plenty of sports camps, there are barely any arts camps," says Melki. "This camp is unique in this way as it offers them the opportunity to grow spiritually, artistically and emotionally while enjoying their summer and interacting with some of the best artists and teachers in Lebanon and the region."
In addition to the rock band, the camp will invite students to be part of a choir, run by Yasmina Sabbah, and learn to engage in piano and chamber music, led by Seba Ali. Both Sabbah and Ali are members of the department's faculty, as is Assistant Professor and Associate Chair Nadra Assaf, who will hold classes in dance, and LAU alumnus and theatre instructor Omar Moujaes, who will run acting classes.
"Our faculty are well equipped with the skills needed to teach in an informative but fun style," says Selim enthusiastically about his colleagues. "Art education is not restricted to skills for future practitioners of the arts. It teaches children the creativity, teamwork, and critical thinking skills needed to succeed in the 21st century."
Having attended arts summer camps in his youth and run them during his time in the U.S., Selim is excited to witness the results and be inspired by the energy of the students. "Imagine Summer Arts Camps is not just a two-week arts academy, it is an investment in the future; a step in creating an open-minded and well-rounded community. It is evidence that our children are just as talented and creative if they are given the same opportunities."
Registration for the Imagine Arts Summer Camp is now open. Read more about it and download the application form at http://comm.lau.edu.lb/imagine-summer-camp
Communication Arts students at LAU express their pride in the department's mission to #ReinventCommunication
Watch full video: http://comm.lau.edu.lb