LAU, leader of regional quality business education
LAU hosts brainstorming of dozens of regional business school deans to discuss the future of Management Education in the Middle East and Africa.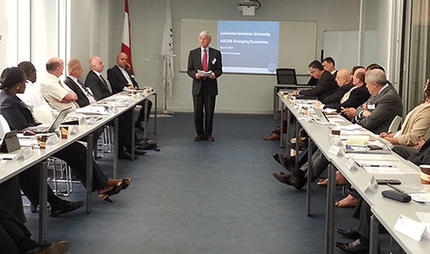 The LAU School of Business played host this week to deans of business schools in the Arab World and Africa. The deans gathered, as members of the Association to Advance Collegiate Schools of Business (AACSB), to discuss the association's expanded future role in the region. A two-day focus group held on May 26-27 at LAU's Executive Center in Downtown Beirut hosted 27 representatives from 12 countries and yielded a three-page list of constructive recommendations for the association, which boasts over 1,400 accredited schools out of 15000 world-wide.
"In hosting this focus group, we are asserting our commitment to being a regional university, building bridges with other business schools in the area and championing causes of quality business education," said LAU Provost George K. Najjar, who also acts as Middle East and Africa advisor to the accreditation organization.
Networking with other strong business schools, learning from their experience and receiving organizational guidance are some of the key benefits of AACSB membership, explains AACSB special advisor for emerging economics, Dr. Richard E. Sorensen. "I was last in Lebanon in late 2011 when I chaired a committee for regional business school deans to develop the accreditation standards. The success of that event in attracting wide regional participation encouraged us to return and hold this latest regional meeting here."
The development of an AACSB affinity group specifically for the Middle East and Africa is among the recommendations brainstormed by the focus group this week. "Right now, they are included as part of the affinity group for Europe, which will soon run out of a new office in Amsterdam, but Europe, Africa and the Middle East are not a homogenous area. Twenty years ago the AACSB thought everyone was like the United States, then they saw they weren't and made radical changes that have been very influential. We are building on that further with these regional focus groups."
Sorensen, who retired from his position of 31 years as dean of the VirginiaTech's business school, has a long history with the organization. "I have chaired over 150 accreditation visits over the past 40 years and am often the first representative to visit a country new to our network."
An advocate, and instigator, of AACSB globalization, Sorensen heads the organization's 2020 committee, which is committed to maintaining the momentum of global expansion that the organization has enjoyed over the past decade. His visit to Lebanon came hot off the heels of a regional meeting in Croatia and precedes another in Peru. "It's amazing the impact accreditation has on universities and the way they improve their operations."
As LAU's Business school is working toward gaining AACSB accreditation, a process that is expected to be completed in a year and a half, the university might have new cause to cheer around the same time the accreditation authority celebrates its centennial anniversary, in 2016.