Media and digital literacy academy welcomes international cohort
Two weeks of lectures, workshops, discussions and film screenings allow students, journalists, activists and academics to meet with Arab and international experts in the field.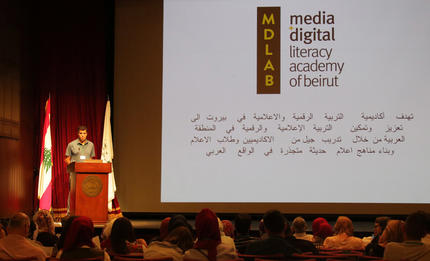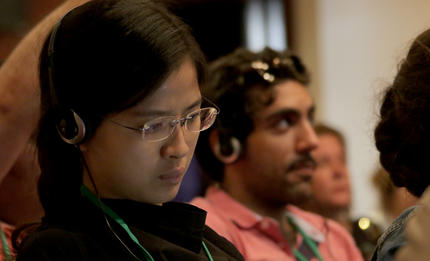 The fifth annual MDLAB session — the Media and Digital Literacy Academy of Beirut — got underway yesterday morning with a lively discussion about the importance of media and digital literacy that considered civic participation, mental health, violent extremism, fake news, and employability, among other topics.
"Media literacy aims at self and communal empowerment," explained Jad Melki associate professor of journalism and media studies at LAU, referring to a recent study that showed a correlation between media literacy education and online political engagement.
"It is concerned with access to and analysis, evaluation and creation of media in a variety of forms," added Melki who is also the director of the university's Institute for Media Research and Training, which hosts the annual two-week summer MDLAB program attended by students and professionals from across the region.
Melki noted that a fast changing landscape requires new approaches and curricula to ensure updated education. To this end, MDLAB works year-round to further develop curricula and publish them in an open source environment.
"Our goal is to establish media and digital literacy across Arab universities and schools and as the basis for curricula in every major and discipline," said Melki, who in 2015 was awarded the UNESCO-UNAOC International Media and Information Literacy Award for advancing media literacy education in the Arab region.
Since its inception in 2013, MDLAB has succeeded in introducing media and digital literacy to 32 Arab universities and a handful of schools in 12 Arab countries. This summer, for the first time, the program has welcomed trainees from the U.S., Europe and Asia.
"There is no profession, no field, no aspect of our lives, that doesn't engage communication and media," said Melki during the morning discussion at the LAU Beirut campus, which engaged attendees in dialogue about regional and international media coverage of headlining stories, such as terrorism, sectarianism, and war.
Such lively, instructive and thoughtful discussions will be held throughout the program, which boasts a diverse curriculum of workshops, lectures, and film screenings. Fake news, digital safety, social media privacy, cultural identity, and ethical data management are among the focus topics of 22 scheduled lectures, which are open to the public and streamed live online. Workshops will also enable registered attendees to hone their skills in various technical fields, including podcast production, video editing, and data visualization.
In addition to international academics, speakers include journalists and NGO representatives from within the region, who will run workshops and participate in panel discussions about media portrayal of women and marginalized communities, conflict resolution, gender based violence, and women in media, among other topics.
"My dream is that in five years, you will be here giving lectures and workshops and that we will be able to find the skillsets we need from within the region," Melki told the audience.
Want to learn more about media literacy and meet experts in the field? Check out the list of lectures and film screenings that are open to the public in the MDLAB 2017 program.
Communication Arts students at LAU express their pride in the department's mission to #ReinventCommunication
Watch full video: http://comm.lau.edu.lb