LAU Model UN delegation achieves stunning results at global conference
Five Lebanese high schoolers representing the LAU MUN program won six awards at the international UNA–USA conference in New York.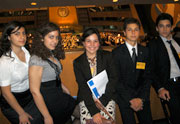 Five Lebanese high school students from the LAU Model UN program won six awards at the 11th international UNA–USA Model UN conference held in New York, from May 13–15.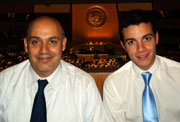 The delegation included LAU MUN program director Elie Samia (left) and LAU student Georges Badawoui, the LAU MUN secretary-general.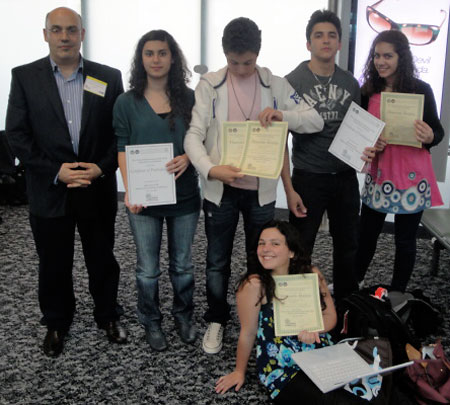 The five delegates show off their awards at the London Heathrow Airport on their way back home.
Click on any photo above to view all three images.
Five Lebanese high school students from the LAU Model UN program won six awards at the 11th international UNA-USA Model UN Conference in New York, which brought together around 2,400 students from 200 educational institutions from around the world, from May 13-15.
Simulating the Kingdom of Denmark, the Lebanese delegates shone during debates in various UN committees. After months of training by LAU students as part of the LAU MUN program, the high schoolers presented exceptional diplomacy skills and caucusing techniques, and followed the rules of procedure precisely.
"Leaders are not born, they are made, and the LAU MUN program has proved throughout the years to be a school of leadership par excellence," says program director Elie Samia, who accompanied the delegation along with LAU student Georges Badawoui, the LAU MUN secretary-general.
The LAU MUN team was comprised of Karim Atassi from Brummana High School, Hannah Boutros from Collège Notre Dame de Jamhour, Yasmina Tabaja from The International School of Choueifat, Michel Hajj from Tripoli Evangelical School, and Yara Neaimeh from Saint Joseph School (Cornet Chahwan).
The Lebanese delegates were divided into three committees: Neaimeh and Boutros were in the World Food Programme committee that discussed the causes, effects and ways to solve malnutrition. In the UNICEF committee, Hajj and Tabaja took part in a debate about HIV/AIDS among young people, and ways to combat and prevent it. Atassi was placed alone in the General Assembly group — which consisted of around 300 delegates — that tackled the issue of multinational corporations and development.
"The conference was incredible and it was obvious that the Lebanese delegation was the most experienced and the most knowledgeable of the rules and procedures, thanks to the inspirational and hard-working LAU students, especially the trainers," says Tabaja.
On the last day of the conference, Boutros and Neaimeh won two Honorable Mention Awards — given to the delegation with poise and diplomatic creativity and skills.
Tabaja and Hajj got two Best Delegation Awards — given to the delegation that showed the best diplomatic and speaking skills, as well as an accurate portrayal of its country's opinion and effective solutions.
And last but surely not least, Atassi won two Honorable Mention Awards. He was alone in his committee and did a mind-blowing job.
"I got a head rush when I received the results; it was a high-adrenaline moment," says Badawoui, adding: "Those students are like my younger brothers and sisters."
All of the students agree the entire LAU MUN experience was unforgettable and life-changing.
"I gained self-confidence and improved my public-speaking and negotiation skills. In addition, I learned how to become a diplomat," says Neaimeh.
His teammate in the WFP committee, Boutros, says: "I now know so much more about global issues and what world leaders are doing to tackle them."
Boutros adds: "The conference in New York was both horizon-broadening and competitive — we met people from all over the world and did our best to correctly represent Lebanon in an international event. We never would have come so far without the help and support of the Model UN staff, especially Mr. Elie Samia, the trainers and our secretary-general Georges Badawoui. I can never thank them enough for this amazing opportunity to shine amid thousands of other high school students."
The five delegates were selected through an extremely meticulous screening process and went through a rigorous preparation period before heading to New York.
In mid-April, 98 award-winners were chosen out of 1,300 delegates from all over Lebanon to participate in a mock simulation. Then, the LAU steering committee chose to interview 16 of them, out of whom the five students were selected.
For Hajj, his selection was a surprise. "When I first participated in the MUN program in Lebanon, I was not expecting any award. I didn't think I'd be chosen for the interview or to go to New York, but guess what, I was."
For three weeks, the students met every Friday afternoon to prepare for the conference by writing speeches, finalizing research, preparing resolutions, and discussing organizational and behavioral matters.
The biggest lesson Atassi learned from MUN is "that there are no limits to what a determined person can achieve." He adds: "I joined Model UN in hopes that I would basically do well and learn a bit. But throughout the sensational program, I gained so much more. I can honestly say that I'm a different person, a better person."