LAU Model UN embarks on new season with wider horizons
The GC–LAUMUN program inaugurated its fourth consecutive year with a new name and an expanded plan last month.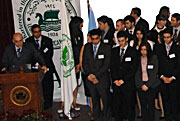 Project leader and Byblos Director of Guidance Elie Samia addresses the audience at the opening ceremony, as the members of the AL WALID GC–LAUMUN 2008–09 team look on.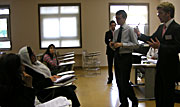 A school advisers' training session.



From Left: George Chidiac, deputy secretary-general and director of School Relations; Oriane Chamoun, secretary-general; Elie Samia, project leader; Sara Bittar, director of Public Information; Joelle Eid, director of Training; and Aya Al-Blouchi, associate director of Project Management.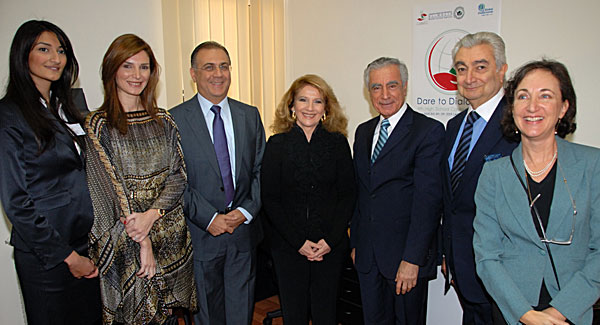 LAU representatives and program sponsors visit the newly equipped MUN office on the Beirut campus. From left: Oriane Chamoun, LAU MUN secretary-general; Mrs. and Mr. Ghassan Assaf, Chairman of BBAC (sponsor); Dr. Leila Solh Hamade, vice president of the Alwaleed Bin Talal Humanitarian Foundation; Dr. Joseph Jabbra, LAU president; Makram Zaccour, chairman of Merrill Lynch, Lebanon (sponsor); and Dr. Elise Salem, VPSDEM.



A group photo of the secretariat with LAU officers.

Click on any photo above to view all five images
The Global Classrooms–LAU Model United Nations program welcomed its fourth consecutive year with a new name and an expanded plan during an inauguration ceremony in Beirut's Irwin Hall Auditorium on December 6.

This year, the Alwaleed Bin Talal Humanitarian Foundation donated $100,000 to equip the MUN offices on the Beirut and Byblos campuses. The amount will also cover the expenses of the seven training sessions, during which 50 LAU students will be teaching around 1,100 high schoolers about UN principles as well as communication, negotiation and conflict-resolution skills.

As a result of the new sponsorship, the program was renamed AL WALID GC–LAUMUN, which stands for Alpha Leadership Web for Arab Leaders in International Diplomacy Global Classrooms–LAU Model United Nations.

During the opening ceremony, Abdel Salam Marini, vice president for Academic and Humanitarian Affairs of the foundation, said that after witnessing the youth's passion for engaging in the MUN experience, former Minister Leila Solh Hamade, the foundation's vice president, realized the importance of maintaining such a program by providing additional funds.

"Our slogan this year, 'Dare to Dialogue,' is truly the epitome of what we wish to convey to your students," MUN secretary-general Oriane Chamoun told the 110 high school representatives, mainly principals, attending the ceremony.

Starting January 17, the training sessions will prepare students for the final conference of April 3–5, when delegates will participate in various committee sessions and will debate global issues, such as access to medication and eradication of illicit drug crops.

For the first time, 10 schools from other Arab countries will have the chance to participate in the conference by joining a one-week course on diplomacy before the event. Last year, only Qatari students had taken part.

In addition, six high school students will be selected to represent Lebanon, along with Chamoun, at the United Nations Association of the USA Model UN Conference to be held in spring at the UN headquarters in New York City.

LAU President Joseph Jabbra said that the program would teach participants about UN ways of solving conflicts and maintaining peace in the world. "Unfortunately, our world is unstable and divided. We and our youth have the moral obligation to change the world by the power of love and not by the love of power," said Jabbra.

Following the ceremony was the opening of the MUN office on the Beirut campus. Later, members of this year's AL WALID GC–LAUMUN team, accompanied by project leader and Byblos Guidance Director Elie Samia, introduced student head delegates from various schools and their advisers to the main features of this year's training sessions and final conference.


---
Previous stories on GC–LAUMUN:
---
Related link: