LAU MUN trainers empower middle school students from around the world
The Outreach and Civic Engagement unit successfully leads Model United Nations for Middle School Students in New York.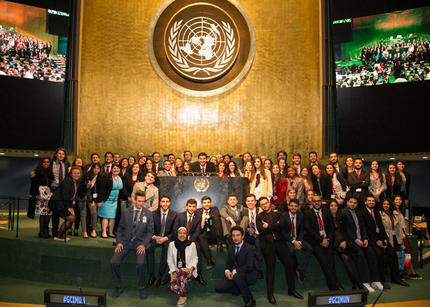 More than 1900 middle school students from 30 international cities and 30 U.S. states converged on New York at the beginning of the month to participate in the Global Classrooms International Model UN Conference for Middle School Students (GCI MS MUN). Run since 2015 by LAU's Outreach and Civic Engagement unit (OCE), the event was held under the slogan "The Art of Diplomacy," in collaboration with the United Nations Foundation.
During the conference, middle school delegates had the opportunity to step into the shoes of ambassadors and learn how to negotiate current world issues, resolve conflicts, and navigate the UN's rules of procedure with fellow participants from around the globe. "Watching a delegate learn and grow, and become more diplomatic and objective in his/her thinking, as well as discover how to apply those skills to his personal life, gives us staffers a profound feeling of pride," says recent LAU graduate Rahma Dalbani, who served as this year's Director General of the conference. "We are working toward something bigger than ourselves, helping change someone's life."
Dalbani led a team of LAU students in coordinating 13 simulated UN committees, which included presentations on the day-to-day workings of the global forum by directors of UN specialized agencies. "The secretariat, whose members had never worked together before, collaborated behind the scenes to run a smooth conference," notes Ghina Harb, OCE leadership and civic engagement lead coordinator. "The GCI experience brought together LAU students who started their journey as volunteers and ended up as family."
As LAU enters into the second decade of its involvement with Model UN simulations, the university's "student leaders are veterans in terms of commitment and competence in the realm of educational depth, cognitive value, logistics and administration, public information and public relations," says Elie Samia, assistant vice president for Outreach and Civic Engagement at LAU. "Their accumulated experiences in local and international conferences pay off as they serve with clarity of mind, intensity of focus, unparalleled devotion and lucid perspicacity."
While this year's GCI MS MUN included such thrilling highlights as a closing ceremony held in the General Assembly Hall at the UN Headquarters, the LAU students involved uniformly recognized the long-term benefits of putting together such a massive conference. Secretariat member Ziad Abi Fares points out that "it helped us grow as people in terms of personality, and organizational and communication skills."
His colleague Fouad el Kadi, a third-year petroleum engineering student at LAU Byblos, is motivated by "the impact the program has on the middle school delegates." More specifically, "when teachers from the schools thank us for the change their student underwent― turning from an introvert to an extrovert, becoming more accepting or an eloquent public speaker―we feel the urge to serve this program for the benefit of these young students who will grow into future leaders."
In addition to running the GCI Middle School Conference in NY, LAU has been entrusted by the United Nations Association of the United States of America (UNA-USA) to run the high-school version of the program scheduled for May 11-13.