LAU NY honors Zaven Kouyoumdjian
LAU alumnus and television celebrity Zaven Kouyoumdjian brings his latest book, Lebanon On Screen: The Greatest Moments of Lebanese Television and Pop Culture, to LAU NY.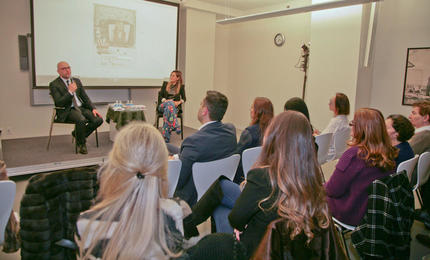 LAU NY Academic Center and the Consul General of Lebanon Majdi Ramadan recently co-hosted a talk, book signing and reception with Lebanese television celebrity Zaven Kouyoumdjian, who is known for his talk show Bala Toul Sire and best-selling book Lebanon Shot Twice, among others. The event revolved around the LAU alumnus' latest publication Lebanon On Screen: The Greatest Moments of Lebanese Television and Pop Culture. Preserving collective memory, the book examines the role of television and pop culture in bringing the Lebanese people together and presenting an image of Lebanon to the outside world.
Both before and after the war, TV was crucial in helping disparate groups, divided by religion, sect, or region, identify themselves as Lebanese. In Kouyoumdjian's words, "Television came to tell the Lebanese about the Lebanese."
Lebanon On Screen is a remarkable resource, filled with rare photographs that made the members of the audience gasp and murmur as they recognized famous faces. It was inspired in part by the author's own frustrated research, finding little―if any―published work on Lebanese pop culture. "Because of the war, there is no continuity of memory," he said, hoping that the book will be a starting point to re-connecting the Lebanese with their past and with each other.
Lecturing at different Lebanese colleges, including LAU, Kouyoumdjian would display photos of iconic Lebanese television stars, such as Abou Salim, to undergraduates who had no recognition of their importance. "We want Lebanese media students to know about the history of Lebanese TV, not just American TV."
Leading the discussion, TV host Rita Zihenni noted that she still sought out clips of Lebanese television on YouTube to show her children, in the hope that it would "make them more Lebanese." Kouyoumdjian replied, "Or at least that it will help them understand you!" In all seriousness, he said that he hoped that families would look at the book together, as it might help young people reconnect with their parents and with their roots. "What is a nation? It is a collection of memories."
During the reception and book signing, Kouyoumdjian spoke eloquently about the debt he owed LAU and the thrill of being honored at LAU NY. "I have always felt very proud to be a part of LAU," he said, crediting the university with shaping the way he sees the world as a journalist, "always trying to ask different questions, to search for new angles."
Consul General Ramadan was pleased by the crowd at LAU NY, joking that it had become a kind of "Lebanese Club." "It's not just about the space," he said. "You have to find the people who are willing and helpful enough to make things happen, and here at LAU we have a great team."
The center's director, Lina Beydoun, took the opportunity to express her gratitude to the Consul General, saying that his support made remarkable evenings like this one possible.
Speaking of the wide diversity of events offered to the Lebanese community at LAU NY, Ramadan said "I honestly cannot tell you how important this is."