LAU pharmacy students bring joy to nursing home and cancer center
NAPHASS members visited children with cancer and elderly in December.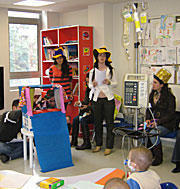 LAU students stage a puppet show at the Children's Cancer Center of Lebanon on December 30.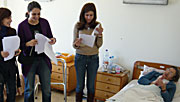 Dr. Aline Saad (3rd from left) and some students sing Christmas carols to an old lady at the Dar-Hamilat-El-Tib Nursing Home.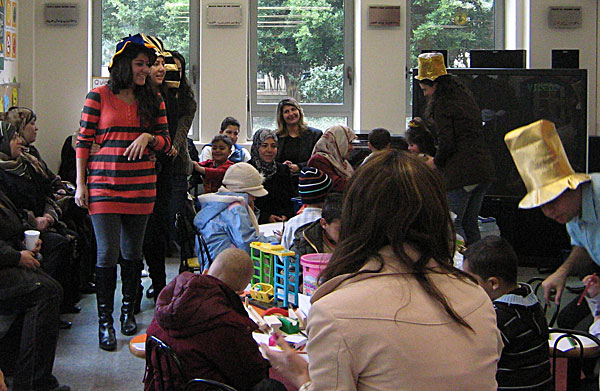 Students entertain cancer patients in the presence of their parents.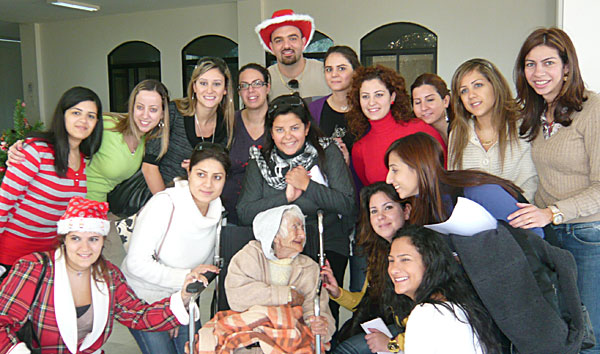 A group photo taken during the nursing home visit on December 6.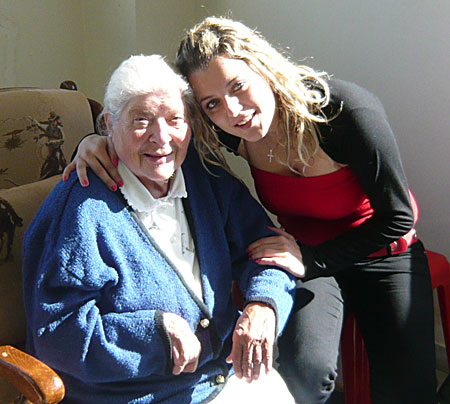 Student Betty Barakat keeping an elderly lady company.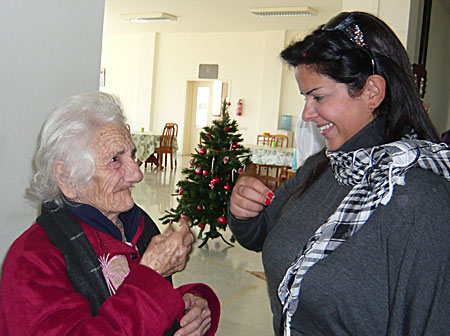 Student Nadine Stambouli singing a traditional Lebanese Christmas song with an elderly woman.
Click on any photo above to view all six images
For 20 LAU pharmacy students who are members of No Apathy Pharmacy and Health Student Society, December was not only a month of holidays. They had the opportunity to spread smiles to people in need.

The students went to the Dar-Hamilat-El-Tib Nursing Home in Deddeh El-Koura, North Lebanon, in early December 2008, and visited the Children's Cancer Center of Lebanon in Beirut at the end of that month.

"Both of them were unbelievable experiences," according to Dr. Aline Saad, clinical assistant professor. She said the second visit was difficult but very rewarding. "Only eight students could get in, due to the strict rules of the facility and the low immunity of the patients," she said. The students spent time with the children and staged a puppet show.

The nursing home visit was more in tune with the holiday season. The students brought Santa with them, gave out gifts, and sang Christmas carols. They also served breakfast; played chess, cards and checkers with the elderly; and read poetry.

"I had never been involved in something like this before," said Rana Kandalaft, a third professional-year student. "I didn't expect them to be so happy to have us there. They didn't want us to leave," she said. "They kept telling us, 'You're amazing. You're the best thing that happened to us in a long time,'" she added.

Marie Chalhoub, social assistant at the center, said they "receive visits from many students, universities and NGOs. But this was the funniest and liveliest."

Apart from the fun, the students assisted the nursing home personnel in administering the residents' medication, according to Saad.

"It is a way to reach out to the community of elderly who need the most attention in terms of medication use," since they often take multiple drugs concomitantly, Saad said. Pharmacists can play an important role in "counseling them on the appropriate use, side effects and potential drug interactions of their medications," she added.

Saad said that the initiatives serve the main purposes of NAPHASS: giving back to the community; enhancing the students' leadership skills; and creating an image of pharmacists as helpful, dynamic, knowledgeable and compassionate health-care providers.

According to her, another visit to the children's cancer center is in the works, because the students that missed it last time want another chance to go there.