Pharmacy students teach children how to avoid poisoning
LAU pharmacy students held a weeklong campaign to inform school children in northern Lebanon about poisoning types and proper prevention methods.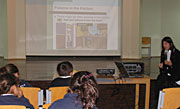 ISC students watching a presentation about poisons in households.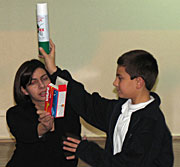 Dr. Aline Saad explains the dangers of playing with insect-killing products to a fourth grader.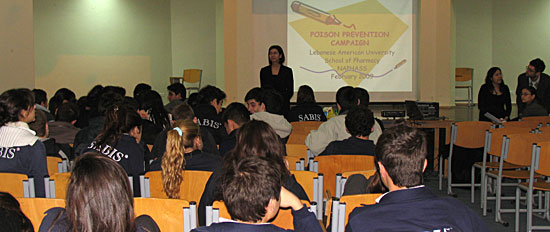 Senior students learning about how to explain their younger siblings that some substances in the house may be dangerous if played with.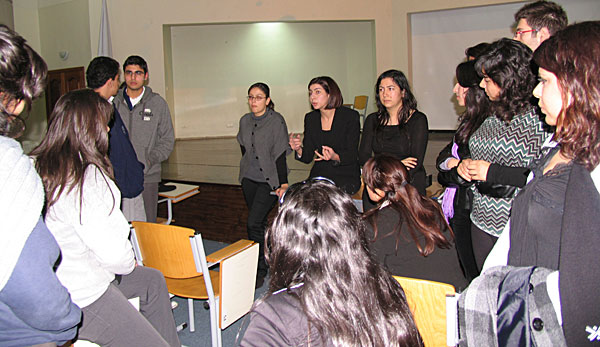 Saad, surrounded by LAU pharmacy students, discusses with a group of senior-year ISC students interested in becoming pharmacists.

Click on any photo above to view all four images
During the break between semesters, a group of LAU pharmacy students drove every morning from the Byblos campus all the way to Koura, North Lebanon, as part of a weeklong volunteer activity with the No Apathy Pharmacy and Health Student Society.

The NAPHASS students went to the International School of Choueifat–Koura to spread awareness on poison prevention, by tailoring their presentations to groups ranging from fourth to 12th graders.

"If I had the means of transportation, I would be here every day," said pharmacy student Raya Hobeiche, who said she enjoyed communicating with the children.

The LAU students informed the participants about the dangers of getting poisoned by animals, chemicals and other materials that may even exist in households, such as detergents and other cleaning substances, medicines, and perfumes.

The students also taught some easy ways to avoid poisoning, such as keeping potentially toxic substances in safe storage rooms or containers with childproof caps.

Dr. Aline Saad, clinical assistant professor and campaign coordinator, said she was very happy that the children showed interest and interacted with the presenters. "This is information they can share with their parents and their siblings at home," she said.

Hanna Daoud, ISC student life coordinator, said that she found some of the information useful even to her, as a mother and teacher. For example, she learned that adults should not describe medicine as candy in order not to send confusing messages to children. "This is something we always used to tell them," she admitted.

Similar initiatives, such as the 2009 National Poison Prevention Week (March 15–21) in the United States, inspired the initiation of the NAPHASS campaign.

The poison prevention campaign is one way to show that pharmacy students are not solely medicine sellers, as many tend to think, said LAU student Lama Kheir. "We are taking advantage of our professors' experiences in spreading awareness and we are sharing with the children what we learned, as much as we can," she added.

"More work is yet to be completed to spread the poison prevention messages in other schools around Lebanon," Saad said.

Saad and the pharmacy students said they are planning to continue this public health campaign by increasing awareness about other topics such as medicine abuse.