LAU plays key role in advancing technology and research
The university's New York Academic Center hosts the 12th IEEE International Conference on Wireless and Mobile Computing, Networking and Communications.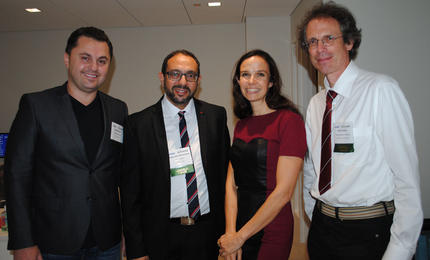 Last month, LAU New York hosted the 12th IEEE International Conference on Wireless and Mobile Computing, Networking and Communications (WiMob 2016). IEEE (Institute of Electrical and Electronics Engineers), headquartered in the U.S., is the world's largest technical professional organization dedicated to advancing technology for the benefit of humanity.
Ninety-three researchers, professors and graduate students from a cross section of disciplines participated in the conference, which is essentially a forum for the exchange of knowledge between researchers, developers and practitioners of wireless and mobile technology.
The event attracted a wide range of specialists from the U.S., as well as Canada, Switzerland, Italy, Japan, China, and Korea, among other countries.
"Organizing this conference illustrates the continuous contributions of LAU to research, and emphasizes the key role of LAU among universities in advancing technology on a global scale," said Azzam Mourad, associate professor of Computer Science, and general co-chair of the conference.
Muriel Médard, Cecil H. Green professor of Electrical Engineering and Computer Science at MIT, was one of the keynote speakers. Médard, who specializes in areas of network coding and reliable communications, particularly for optical and wireless networks, elaborated on her research. "You have 4G, but you switch to a Wi-Fi connection when you don't want to pay for data," she explained. "But it would make more sense if you could get a little bit of juice from your 4G to boost the Wi-Fi, and pay for only a small amount of data. We are working on ways for those systems to complement one another."
The contributions of researchers and academics were complemented by the input of representatives from the industry. Keynote speaker Samita Chakrabati, principal engineer/architect at Ericsson in San Jose, California, spoke to the group about IOT (the Internet of things), namely the internetworking of physical devices, vehicles, buildings, and so on, with electronics: software, sensors, actuators, and network connectivity that enable the objects to collect and exchange data. While there are many 'smart cities' around the world, she said, there are still a few hurdles keeping us from being 100 percent connected.
"Security and privacy are the two biggest concerns in the public mind," noted Chakrabati. "If I am monitoring things inside my house remotely, over the Internet, the data must be secured and encrypted, and proper authentication of devices and user account info must be verified very cautiously. The same applies to healthcare data―privacy, data integrity, reliability of the information flow from the patient to the medical professional are all extremely crucial."
WiMob conference General Chair Abderrahim Benslimane from Université d'Avignon, France, stressed the importance of such annual conferences, and the affiliation with IEEE. "The body of research has grown tremendously in the past decade, and continues to grow every year, so we need this conference to share knowledge and keep up with the new research."
Participants in the WiMob 2016 conference applied by sending research papers. After thorough peer reviews done by experts in the field, 59 papers (out of more than 200 submissions) were accepted. They will be published in IEEE proceedings and IEEE Xplore Digital Library, which is accessible through the LAU Libraries system, and to anyone who holds a membership.