LAU Retirees' and President's Circles running at full throttle
New initiatives by the two bodies offer untapped support to communities inside and outside the university, and help LAU soar to new heights.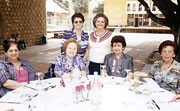 Retirees' Circle brunch at LAU Beirut, June 5, 2010.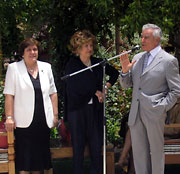 LAU President Dr. Joseph Jabbra speaks at the President's Circle brunch, which was held on May 29, 2010, at the home of Husam and Siham Hamze in Abey.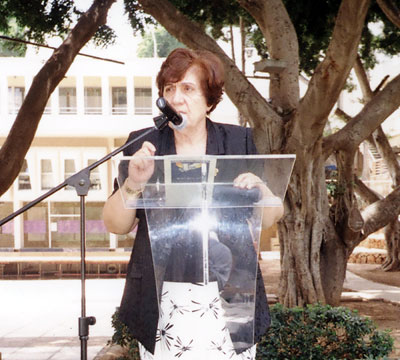 Dr. Layla Nimah, former vice president for Student Development and Enrollment Management, addresses attendees during the Retirees' Circle brunch.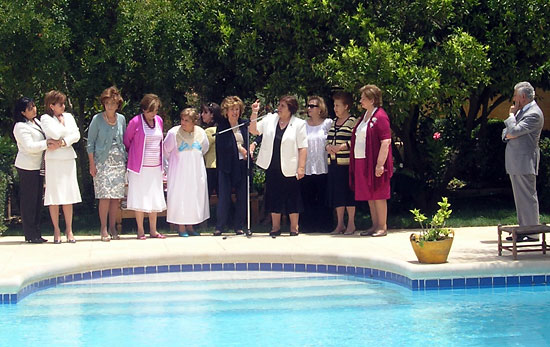 Members of the President's Circle Executive Committee.
Click on any photo above to view all four images.
Initiators of the LAU Retirees' Circle and the President's Circle, two separate initiatives with a common goal to help LAU soar to new heights and serve the community at large, say both bodies are now fully functional, after several months of trial. 
About two years ago, LAU community members began to think about new ways to promote the university's mission, ideals and aspirations. Discussions ensued, agreements were formed and preparations were made, leading up to the two initiatives last year.
"Until now, these initiatives were in a testing period to see how they would function, and we found out they are successful, strong, solid, and we are going to continue with them," says Dr. Layla Nimah, former vice president for Student Development and Enrollment Management, and the architect of the projects.
While both circles share some common ground and stem from the same initial plan to help LAU grow and improve, each body has separate specific goals, members, strategies and executive committees.
Strong and lasting bonds
The concept behind the Retirees' Circle is to allow those who built their careers at LAU and retired — top-level officers, faculty and staff — to remain a part of the LAU family and stay involved in university affairs, while acting as advocates of the university to the outside community.
"We are not going to find anyone better than them to defend LAU," says Aida Naaman, a member of the Executive Committee of the Retirees' Circle and former director of the LAU Beirut library.
Retirees "come from diversified departments and strata, from different areas, backgrounds, social differences," adds Naaman, who returned to the library as a part-timer. "So they really represent the Lebanese community with all its varieties and at the same time they are advocates of the university."
Many of the retirees still have a strong bond with LAU, where a lot of them spent more time than they did at home, especially during the Lebanese war when the university hosted employees in its dorms overnight, when it was too dangerous for them to drive home.
"When people spend 35 years at an institution, you can't take the institution out of them immediately," Nimah says, before describing the enthusiasm and excitement of the retirees after being contacted with the proposition of joining the circle.
"There are structures that listen to alumni, acting faculty and staff, but until now there was no body at the university that listened to the concerns and interests of retirees," Naaman says.
"A will to serve"
Unlike the Retirees' Circle, the President's Circle is not solely comprised of members that have any direct affiliation with the university, though some are former staff and students. The members are chosen rather on their desire to help LAU fulfill its mission of providing support to the outside community.
"Some people, really by caring about the society at large, see that this institution is doing the work that they would like to be a part of," Nimah says.
"With the Retirees' Circle, there is this bond that existed for so many years with the university," she says. "With the President's Circle, there is a will to serve."
With a large focus on fundraising and promotion of LAU, the President's Circle meets monthly to discuss projects, activities and other matters of interest.
Currently, the circle is working on a project to mobilize a team of volunteers to lend a helping hand to the staff and patients at the University Medical Center - Rizk Hospital.
The initiative is expected to be officially launched on October 1, with a mission of bringing some comfort and relief to patients.
"The fact that they visit patients and ask them how they are really makes a difference," Nimah says. "People are very enthusiastic about it."
Those who wish to join the Retirees' or the President's Circles, or are interested in learning more about their projects, should contact Dr. Layla Nimah at lnimah@lau.edu.lb.