LAU runs and raises awareness at the Beirut Marathon
From runners to cheerleaders and nutritionists, the university has been on all fronts in this year's race.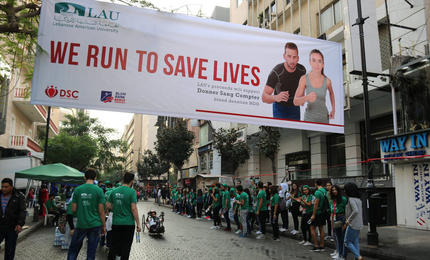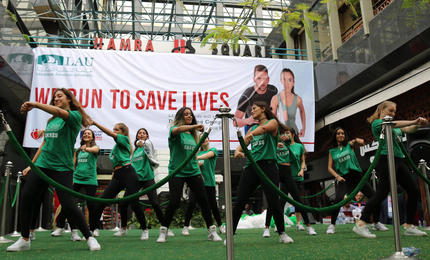 Every year, LAU runs the Beirut Marathon for a cause. This year, 84 LAU students, faculty, and staff ran for blood donation and the NGO Donner Sang Compter. "It is an honor to have LAU join us in such an event," said Thomas Tabet, LAU alumnus and marketing manager of DSC. "Yorgui Teyrouz, founder of DSC, and myself were very proud to have our university supporting us," added Tabet.
The positive impact of the university's participation was immediately perceptible. "LAU is one of the biggest universities in Lebanon and the region, and to see such institutions support us, was great," he added.
In the spirit of encouraging goodwill and compassion, volunteering for LAU was reflected in many ways. This year, LAU was present intensively on the 42 Km, 21 Km, special needs, and 7 Km Fun Run races' course through a very large water and cheering station that included more than 130 volunteers.
While some LAU students were also present on two recycling stations with the NGO G others joined the Red Cross Youth team.
Through the support of the Abraham Foundation, LAU also sponsored a team of 385 underprivileged children to run the race.
According to Hassan Baalbaki project management coordinator at LAU's Outreach and Civic Engagement office the Beirut Marathon is a platform through which the university teaches the students to be civically engaged.
However, LAU's involvement in the marathon was not limited to the day itself. Preparations started earlier this summer with Associate Professor of Nutrition Lama Mattar, who advised a team of amateur runners on the importance of nutrition in sports, especially for first timers.
"As an LAU professor and volunteer, I donated my time to these runners and started giving them weekly nutritional tips around the end of June 2016 when they first started training." Within four months, the 170 participants who kept up with the coaching were well prepared to run the marathon.
"A long run is not like daily exercises which you do for a half hour and where it does not really matter what you ate that day. Your body needs to adapt to a 42K run." According to Mattar there are a lot of misconceptions about sports and nutrition, especially when it comes to amateurs who are bombarded with all too often the wrong advice.
In addition to giving out tips on how to eat right during the training season, Mattar gave out recipes on how to prepare healthy homemade meals and energy drinks. "It is important for me to play my part and give more accurate information for people who are serious about it," she said, explaining her motive for coaching.
For those who want to create their own homemade sports drink, Mattar suggests mixing either plain water, coconut water, or herbal tea (250ml) with 1/4 teaspoon of sea salt, 1 teaspoon calcium magnesium powder and ¼ cup or more of juice (optional) such as grape, apple, lemon, lime, and pineapple, and adding either honey or a sweetener depending on taste preferences.