LAU scientists sequence genome of disease-causing bacteria
Sima Tokajian, associate professor of microbiology at LAU Byblos, and her colleagues have analyzed 40 strains of bacteria collected from patients in Lebanon.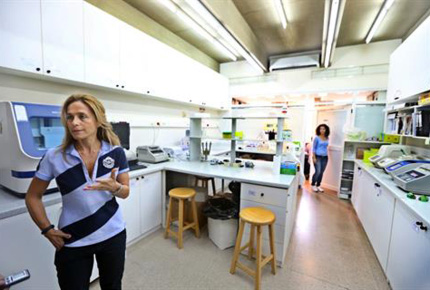 Scientists at LAU have sequenced the full genome of bacteria that cause skin infections, food-borne illnesses and other diseases in patients in Lebanon, an important milestone in combating dangerous microbes here that are resistant to antibiotics.
The sequencing will help shed light on pathogenesis – the process through which bacteria like E. coli can cause illnesses, the resistance of bacteria to antibiotic treatment, the origin of microbes found here and their potential to spread in the community, researchers said.
The genome contains all the genetic information that makes up an organism and controls its functions, and is encoded in its DNA. Whole genome sequencing maps out this entire genetic heritage, offering unprecedented detail into the minutia of creatures and microbes.
"It's similar to having a puzzle," said Sima Tokajian, associate professor of microbiology at LAU who carried out the sequencing of the bacteria taken from Lebanese patients. "But the puzzle is already assembled, you break it into pieces and try to put it back again."
Tokajian and her colleagues have analyzed 40 strains of bacteria collected from patients in Lebanon. Some of the results of their analysis were published in the Genome Announcements journal of the American Society for Microbiology.
The microorganisms that they analyzed belong to three different bacteria – Staphylococcus aureus, which is responsible for various skin infections; Streptococcus pyogenes, which causes both sore throats and skin maladies; and Escherichia coli, strains of which can cause urinary tract infections.
The genomes of the bacteria were sequenced at the University of California, Davis' Jonathan Eisen Lab, where Tokajian spent a long sabbatical backed by LAU intended to bring the technology to Lebanon.
Along with carrying out the sequencing in the U.S., LAU acquired the equipment at the cost of about $150,000. The device was installed at LAU's Byblos campus and will be used to analyze microbes found here within weeks.
Tokajian said this was the first time that the full genome of bacteria taken from local patients had been sequenced in the region, and that the use of such machines in hospital settings could revolutionize treatments and research into combating different types of diseases and cancers that are common here.
"In general, it's going to be very revolutionary," Tokajian said.
Medical professionals around the world are increasingly concerned about the emergence of powerful strains of bacteria resistant to the toughest antibiotics, increasing fears that humanity may enter a "post-antibiotic" era in which the ubiquitous treatment no longer works.
A recent report by the World Health Organization showed E. coli as well as bacteria responsible for pneumonia and skin infections in Lebanon growing resistant even to the most powerful and expensive antibiotics. Causes for the increase include over-prescription of antibiotics and self-medication by patients.
But Tokajian said the genome sequencing could aid in the fight against antibiotic resistance by allowing physicians to identify resistant strains of bacteria and target them with effective medicine that they have not yet developed a resistance for.
"It will be a big step toward trying to really limit the spread of resistance," she said.
Doctors who diagnose patients with all types of illnesses will eventually be able to gain greater insight into the bacteria they are dealing with, for instance by knowing if they have genes that allow them to resist certain types of antibiotics, or if they were likely picked up at a hospital.
Doctors can then decide what type of medication is likely to work on an individual patient, or take extra precautions to prevent the spread of diseases at the source, like in a hospital.
As the costs of analyzing the genome of bacteria collected from patients declines, the technique will increasingly be used to diagnose patients, Tokajian said.
A full version of this article was originally published in The Daily Star on June 12, 2014 and is posted here with additional reporting by LAU staff.