LAU seminar series aims at improving staff skills
The Human Resources Department in collaboration with LAU's Continuing Education Program has been offering staff development courses this summer.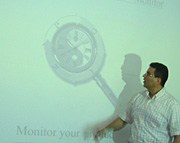 Youssef Khoury, an LAU faculty member in the School of Business, taught time management basics to staff during a workshop on the Byblos campus.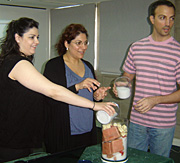 LAU staff members during the SCAN technique exercise that teaches how to minimize interruptions at work by categorizing incoming requests.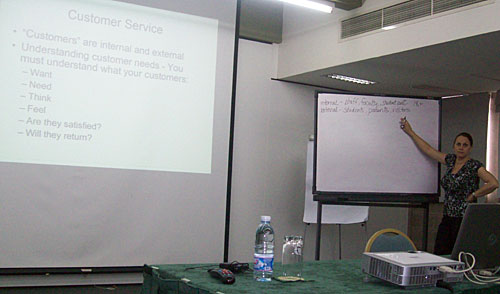 Kim Majdalani, the trainer of the workshop on customer service, explains the importance of understanding the needs of external and internal customers.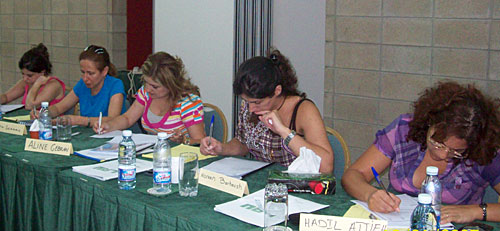 Participants of the customer service workshop during the training assessment test.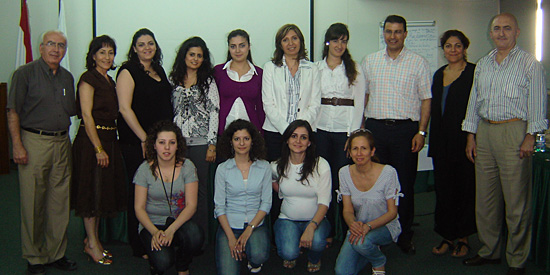 Group photo of the time management workshop participants with trainer Youssef Khoury (3rd from top right).

Click on any photo above to view all five images
Take time for what is important in your life, plan your work, and work based on the plan you set. Rasha Accad, project coordinator at LAU's Marketing and Communications Department, says these three simple tips helped in organizing her work and life more effectively.

She learned them at the time management workshop, one of the courses she attended this summer as part of the staff development program offered to LAU staff by the Human Resources Department in collaboration with LAU's Continuing Education Program.

"We have a lot of phone calls during the day and a lot of people coming [to the office] — a lot of requests. I used to get overwhelmed," Accad says. "Time management teaches you to think, re-prioritize and not act on the 'first come-first served' principle," she adds.

The staff development program includes seven training sessions on time management and scheduling, general office management, customer service, organizing of events, conflict management, and oral and writing communication.

The courses, which are mainly addressed to full-time executive, academic, administrative and clerical assistants, started in May and are to finish next month.

According to CEP Director Michel Majdalani, 69 other LAU staff members have already taken the same courses, showing similar interest. "The number of people willing to come to the trainings is increasing every day and the feedback we receive is very good," he says.

The idea of the series of internal training seminars came from the Human Resources Department, after the LAU HR Study — the first conducted at an academic institution in Lebanon — was released in October 2008.

According to Nabil Semaan and Joseph Michael, the LAU Human Resources directors in Beirut and Byblos, the study focused on four core competencies — client focus, continuous learning, achievement orientation, and work ethics and values — and the workshops aim at advancing these competencies.

The project is not to stop this summer. "This is the first series of training activities that the HR Department has organized in light of the HR Study, but it definitely won't be the last," Semaan says.