LAU strikes Gold
LAU Captains men's football varsity team reign at Uni Championships.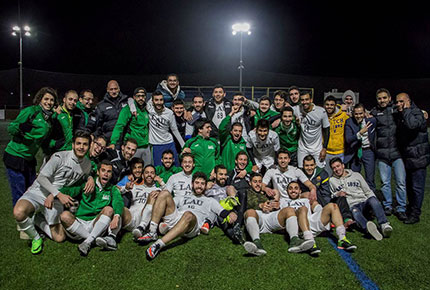 "Where there's a will, there's a way, and now after years of hard work, the Captains have taken the gold," enthused LAU Byblos Athletics Director Joe Moujaes following the final varsity football match of the University Championships, which ended in a 1-0 victory for the LAU Captains, their first championship victory in the history of the Byblos campus.
"Men's football was always a challenge, as our students are not of a football culture, but after trying various strategies, we're delighted with the win," added Moujaes.
Bank manager by day and Captains football coach by night, Alaa Diab took over responsibility for the varsity team at the beginning of this season. "Football is a team sport and so this win is a team achievement," he said , expressing his gratitude for the support of the administration, the players, the coaching assistants and the team physiotherapist.
Among the 30 players in the varsity team, four play for teams in Lebanon's premium league. They are an asset to the team, admitted Diab, before stressing that discipline and camaraderie are just as important, if not more so, than skill. "I told all the players at the beginning of the season that our goal was first and foremost to build a strong team." That meant players were obliged to attend most of the training sessions, regardless of their experience, if they were to stay on the team.
"It was an important message and strategy," said center midfield player Rudy Saleeby. "The spirit of the team has been very good this year." Saleeby and his teammates train three evenings per week and, between friendlies and university league games, have played in around 30 matches this season. "Coach Alaa strategizes and treats us like a pro team. He gives us confidence and discipline and trains us to be better physically and tactically."
Following their win, both coach and players are looking forward to going to Greece next month for the international university league championships. Saleeby has no doubt they will win, having done well in Rome last year. His confidence is shared by Coach Diab. "We're going for the championship, certainly, but success is down to the players. The ball is in their court. They reap what they sow."