LAU student screens short film at Cannes Festival
Presented at Cannes this year, Mitsu Domo is LAU communication arts student Montasser Bayoud's first film about criminals crossing paths in Hamra.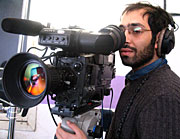 LAU communication arts student Montasser Bayoud wrote and directed a short film called Mitsu Domo.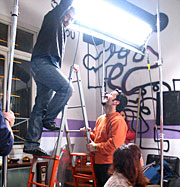 Bayoud fixing the lighting during shooting.

Mitsu Domo, written and directed by LAU communication arts student Montasser Bayoud, was presented in the Short Film Corner organized by the prestigious Cannes Film Festival from May 13–24.

Shot in five days for a tiny budget of LL425,000, the 11-minute Arabic-language film produced last year won the Jury Grand Prize for Best Short Film in the student competition of the 15th European Film Festival held November–December 2008 in Beirut.

In a recent interview, Bayoud talked about Mitsu Domo, his experience in Cannes and shared his views on filmmaking.


What's the film about? How did Mitsu Domo develop from an idea to a short film?
Shot in Hamra, the synopsis is that a bunch of criminals cross paths looking for an item of value.

I wrote a script based on a single female character. By the time I began shooting, I felt the initial idea was not going to work so I elaborated on the character and, out of the blue, other characters developed and the story took its own shape. I created a way for all of these characters to cross paths. We shot it in five days and post-production took five weeks.

The producer, Tarek Kandil, played a huge role in putting this film together. Since this was my first experience, I needed somebody to encourage me in a logical way, without putting pressure on anything or inhibiting my ideas. He was a believer in my vision since day one, and was with me through every step. He wrote and produced the music, acted and did the editing and special affects.

You spent LL425,000 (around $280) on the film from start to finish. Did this inhibit or liberate you artistically?
It was limiting, but you can utilize the maximum out of any budget. In other words, you can create a good film with a dollar and make it look like it cost one million. Money has nothing to do with the process. Of course, it is essential and necessary, but if you have a clear idea, that is what will get you toward the end result.

How was your experience in Cannes?
It was a dream. You see the real world of cinema. You have the opportunity to discuss issues with people who have already tackled all kinds of limitations and are making a living by creating films. It was a very important learning experience for me.

How did you first become interested in filmmaking?
To be honest, when I began working on my degree in communication arts, things were unclear in my mind and I was not sure of the path I would take — TV or film. When I took a scriptwriting course, I realized how gratifying telling stories was and this is really how my relationship with film began. I found out that film is the one medium that contains everything: storytelling, characterization, and visual, music and art direction. It is a big space that you can fill your ideas with and watch them develop.

Has the process of your learning been practical or in the classroom?
I do a lot of reading, especially on the history of cinema. I pay attention to interviews with filmmakers and their commentaries. All these have helped me understand the atmosphere of filmmaking. I've also learned a lot of technical details from working on various sets. As a filmmaker, you need to know the way various machines work so you can use them to the maximum as tools to bring your ideas to life.

Seeing as you shot Mitsu Domo in Hamra, what are your thoughts about the characterization of Lebanon in films that are created here?
Lebanon just happens to be the place where the characters found the amulet you see in the film. It is merely a set location. Every filmmaker has a personal reasoning behind portraying Lebanon the way they do. However, it contributes to the stereotypes linked with Lebanon and Lebanese films. You can shoot here without making it a conscious character or linking it to war or something political. When they do show Lebanon in this light, I feel that they are not revealing any truths. I feel like they have a lot more to say, or wanted to say something very different than what they portrayed in their films, but they are afraid.

How is your film different from other films made in Lebanon?
Films shouldn't dictate how society should function or change. Filmmakers simply have a point of view they want to illustrate visually. This is true for any genre. My point is that there are other genres out there that Lebanese filmmakers can make films in that are not political or cultural.

What's next?
Another short film portraying another criminal world. I need to explore things but I want to have fun in the process. The experience of Cannes was a heavy one. I need time to see things in a clear way and digest all that happened there.