LAU student takes part in G8 University Students' Summit in Italy
Manal Sarrouf represented Lebanon at the summit that gathered 21 students from around the world in Palermo to discuss sustainable development and peace.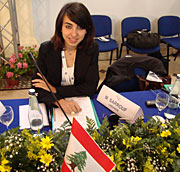 LAU graduate student Manal Sarrouf represents Lebanon at the G8 University Students' Summit in Palermo, Italy, in early May.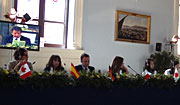 Summit participants discuss the issues of culture of lawfulness, legacy of peace, and education for sustainable development.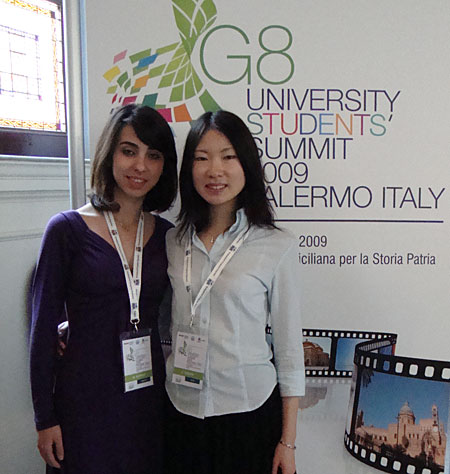 Sarrouf with the Japanese representative.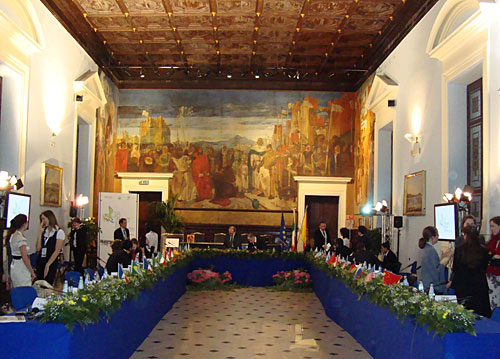 Participants having side talks at the Salone di Maggio-Società Siciliana per la Storia Patria.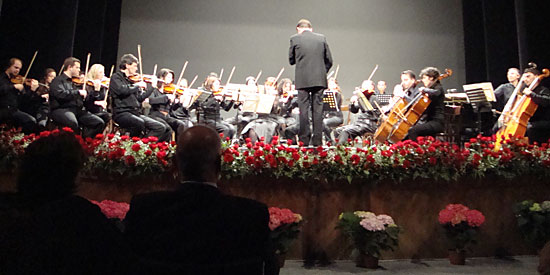 Participants attend a concert at the Teatro Bellini in Palermo.
Click on any photo above to view all five images
When LAU international affairs graduate student Manal Sarrouf and other students from across the globe set foot in one of the oldest Sicilian cultural institutions, the Salone di Maggio-Società Siciliana per la Storia Patria, in Palermo, Italy, on May 8, little did they know that they were going to be greeted by a pandemonium of angry protests and a sea of picket signs.

The crowd mistook them for actual representatives of the Group of Eight countries who were expected to convene for their annual summit about a month later.

Sarrouf, in fact, was selected along with 21 students from G8 nations (Canada, France, Germany, Italy, Japan, Russia, the U.K. and the U.S.), Outreach Five countries (Brazil, China, India, Mexico and South Africa), and countries bordering the Mediterranean Sea to participate in the G8 University Students' Summit.

The two-day summit included debates on the possibility of harmonious and sustainable development in the world, and the role of education in promoting such growth and a culture of lawfulness and peace.

"Undeniably, it was a huge responsibility to represent Lebanon and LAU in such a challenging conference which gathered top students from around the world," says Sarrouf.

But it was also "a chance to build up new experience that would unquestionably add to my knowledge and future career as a graduate student in international affairs," she adds.

Coming from diverse cultures, educational fields and career orientations, the students were able to introduce the concerns of their respective countries as well as their hopes and expectations.

The conference provided "an arena for various cultures to open up to each other and to allow members of various communities to reflect new images of their societies that might alter prejudgments or at least reduce negativity," Sarrouf explains.

She found this exchange of views the most significant part of her experience. "Our rich cultural dialogue was in itself evidence of the role of education in fostering lawfulness and a culture of peace," she says.

The conference was organized by the Conference of Italian University Rectors, Politecnico di Torino, and Italy's UNESCO Commission.

It prepared the ground — by summing up the students' voices in the Palermo Declaration — for the G8 University Summit, which gathered heads of a number of prestigious universities from all around the world in Turin, Italy, May 17-19.