LAU student takes part in one-week European Journalism Institute
Davigh Karamanoukian reflects on her experiences as the only Lebanese participant in a journalism educational program in Prague, Czech Republic.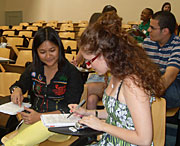 LAU master's student in international affairs Davigh Karamanoukian and Filipina delegate Rhea Penaflor discuss how journalists can be transparent, credible and accurate.

A group photo of European Journalism Institute participants during a walking tour in Prague.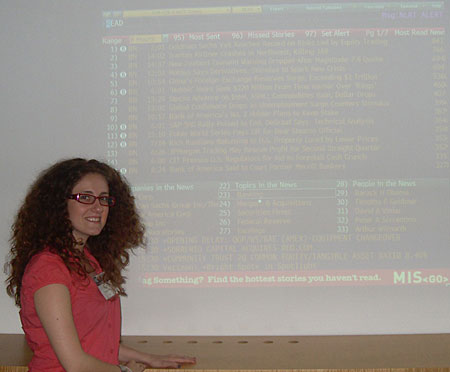 Karamanoukian at a Bloomberg news blog office.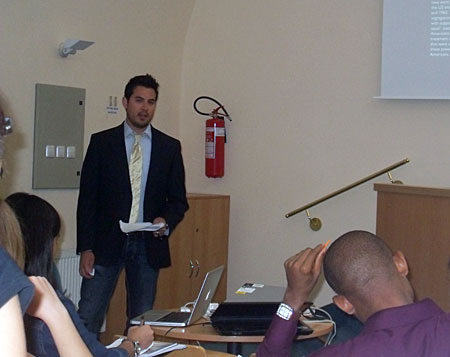 Photographer Samaruddin Stewart from AOL during a panel discussion on the importance of photos in journalism.

From left: Martina Mareckova, EJI program manager; BBC journalist Rob Cameron; Andrei Postelnicu, speechwriting director of the Office of the President at Senate in the Parliament of Romania; and EJI Professor Laura Kelly.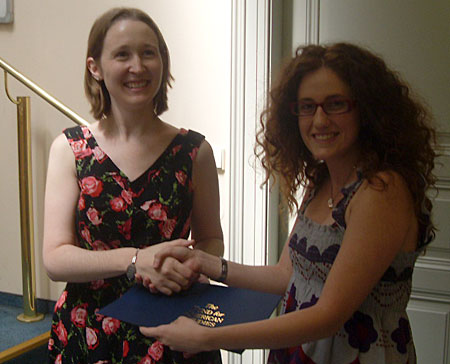 TFAS International Programs' Director Jeffress Le grants Karamanoukian her EJI certificate.
Click on any photo above to view all six images
Davigh Karamanoukian, LAU master's student in international affairs, participated in the 2009 European Journalism Institute from July 11-19 in Prague, Czech Republic. She reflects on her experiences in this first-person report.


On a hot summer day in mid-July, in a classroom at the Charles University in Prague, Czech Republic, 36 young student journalists from 26 countries around the world gathered and reflected on how to complete the sentence, "Journalism in my country is …"

This is how international media consultant and Professor Laura Kelly announced the beginning of her lecture series held during the 2009 European Journalism Institute from July 11-19.

Despite coming from different parts of the world, such as Russia, Romania, and Lebanon, the student reporters seemed surprised that they were expressing similar opinions about their country's media situation. Comments ranged from "Journalism in my country is mixed with public relations" to "Journalism in my country is biased," and "Journalism in my country is operated by political parties."

As the only delegate from Lebanon, I had the chance to interact with other participants during the three-hour walking tour of Prague organized by the Institute before attending the first session. We enjoyed the splendid beauty of the city visiting such landmarks as the Charles Bridge, Astronomical Clock and Lucerna Palace. We also had plenty of opportunity to sample Czech food together.

Having been granted a generous scholarship from The Fund for American Studies and Charles University, we attended the five-day workshop, during which Kelly lectured on the role of journalism in a self-governing society, the challenges of a journalist in a free-governing society, as well as media ethics.

The workshop was organized by TFAS, founded in 1967. The fund has 12 educational institutes, which are partly sponsored by Georgetown University and are held in the Czech Republic, Greece, Hong Kong, Latin America, and Washington, D.C. The institutes offer students from around the world opportunities to examine "economic concepts, political systems and moral philosophy."

Along with the other EJI participants, I learned about a range of current topics in journalism including the importance of fixers and foreign correspondents, the use of images to tell stories, and ways to improve quality in the newsroom, during panel discussions held by journalist Rob Cameron from BBC, photographer Samaruddin Stewart from AOL, and director of the Swiss-based Media and Society Foundation Guilliame Cheneviere.

"The [discussion] about fixers and correspondents was great because I had never thought of doing that job, but the speakers were so interesting that it made me think about going abroad or working for an international company in Croatia," says Maja Simunjak, a workshop participant from Croatia.

Kelly distributed playing cards and dominoes as creative strategies to form groups during the exercises. During group discussions, we negotiated a list of qualities that professional journalists need to have as well as behaviors or practices that can improve a journalist's transparency, credibility and accuracy.

"The most interesting exercise was selecting five news stories from [a given set of] 12 because it is essential to know which story to publish and why — and to understand that there are personal as well as professional pressures that influence the selection process," says fellow participant Ioana Tiganila from Romania.

On the last day of classes, Kelly surprised us with an unusual request. She asked us to write letters addressed to ourselves that will be mailed to us after three months. By doing so, her goal is to let us reflect on what we wrote and whether our perceptions will change with time.

I can certainly say that intercultural training events like these are exciting for aspiring journalists, as they allow us to experience and interact with people from different societies and specifically journalists from around the world.

During the lectures, seminars and discussions, we exchanged ideas on the challenges of new technology, the roles and responsibilities of journalists in free-governing and self-governing societies, the blogosphere as a new communication medium, media ethics and many other topics.

"You are now part of the 10,000 TFAS alumni," said Michelle Jeffress Le, TFAS international programs' director, during the wrap-up session adding that one of our tasks is to spread the word out and recommend deserving journalists to participate in next year's program. "This is just the beginning of this group and your relationship with TFAS," she said.