LAU student wins $10,000 in Studio El Fan logo contest
Third-year graphic design major Sami Kiwan was awarded the prize for designing the new logo of the reputable Lebanese talent scout TV program.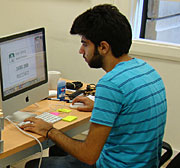 Sami Kiwan working on an LAU publication at a MarCom office.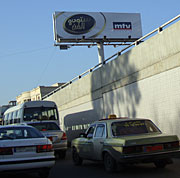 A billboard on the Beirut airport highway displaying the Studio El Fan logo Kiwan designed for MTV.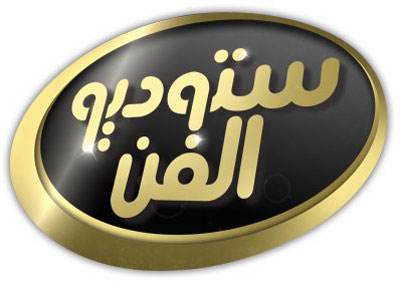 The logo Kiwan submitted for the contest.
Click on any photo above to view all three images
Third-year LAU graphic design major Sami Kiwan was awarded a $10,000 cash prize last month after submitting a logo to Lebanese MTV station's talent scout program Studio El Fan.
Studio El Fan announced a contest in September encouraging people with graphic design skills to create a logo the program could use to advertise a new season of the show.
"I was overwhelmed with excitement when I found out that I won," says Kiwan, 19, who also does part-time graphic design work for LAU's Marketing and Communications Office, and works as a student assistant with the Graphic Design Department.
Studio El Fan originally began airing in the 1970s on Télé Liban before being picked up by the Lebanese Broadcasting Corporation (LBC) in the 1990s, then by MTV this year. The program offers amateur singers a chance to compete for medals in different categories. It has been a launching pad for many of today's stars in Lebanon and the region.
Kiwan says he was told about the contest on September 12 by a friend who had heard a radio announcement promoting it. With no guidelines, instructions or any other information regarding the contest, Kiwan went home and began designing a logo he felt would appeal to all demographics.
After he had finished designing it, Kiwan's computer froze and erased his work, forcing him to start over from scratch. Several hours later he produced a similar logo and emailed it to the program representatives.
Several weeks went by before Kiwan received any news from Studio El Fan. He did not know his logo was selected until he saw it in an advertisement.
"I was driving past Forum de Beyrouth when I saw my logo on a billboard," he says. "I was stunned," he adds, initially believing that the program had used the logo without acknowledging it.
But two days later, Kiwan got a call officially notifying him that he had in fact won the contest.
The logo is now being displayed in advertisements on billboards, newspapers and television commercials across Lebanon.
The LAU Graphic Design Department shared Kiwan's excitement over the prize. Randa Abdel Baki, chair of the department, says she considers the award an achievement for the entire department.
"In every single class we give, we try to encourage our students to compete and submit their work outside the university to gain exposure," Abdel Baki says.
When asked what he planned to do with the prize money, Kiwan chuckled and said: "I'm going to put it in the bank and watch it grow."