LAU student wins at BDL Accelerate
Senior graphic design student Rami Rikka talks about his win at this year's BDL Accelerate 2016 HealthTech Hackathon.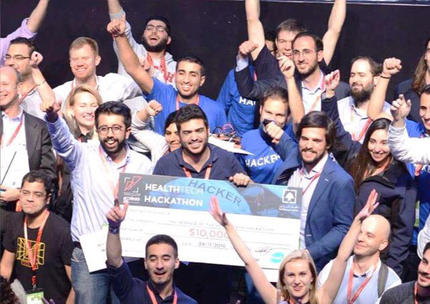 Rami Rikka is an unassuming final year student of graphic design who is enjoying his recent success at BDL (Banque du Liban) Accelerate, where he and a team of new acquaintances won the $10,000 prize for best proposal at the convention's HealthTech Hackathon.
"I've never won anything in my life," says the senior. "It was amazing, and the people I met and spent 48 hours working with were so talented and genuine and unpretentious. I enjoyed it tremendously."
Rikka had applied with peers from LAU to participate in the hackathon, where teams spent 48 hours working together to build a beta-prototype of a technology-based solution that would disrupt the health and medical sector. Although their application was rejected, Rikka was determined to attend the event to learn more about the projects being pitched.
There, he introduced himself to the British-Pakistani doctor Mohsan Malik. "I was very intrigued by his idea to develop an app to help people with facial paralysis," recalls Rikka, who was invited to join the team of eight that went on to produce the winning prototype. "The programmers were amazing, so dedicated," he says.
The interface of the app is as simple as the backend is complex. People with facial paralysis can overcome their disability in three months through daily exercises done in front of a mirror, but it can be emotionally draining and demotivating for patients to stare at their distorted face day after day. FacePhysio interacts with the human face through a game-like program. In the beta-prototype, a hot air balloon on a screen rises in direct response to the raise of an eyebrow. "So they're challenged to do the exercises and know how well they've done witout being discouraged by the sight of their disability," says Rikka enthusiastically.
Rikka, himself a developer who chose to specialize in print design at LAU, was in charge of the brand identity of the app during the hackathon, experimenting with different names before settling on FacePhysio and getting to work on a logo.
The young designer has over the years honed the branding and design skills he developed at LAU through internships at international agencies J. Walter Thompson and Impact BBDO, among others.
"I love learning from others and engaging in different projects. That's what was so lovely about working with this team at the hackathon," says Rikka of his work with Malik, whose dream of developing an app to help stroke victims became a reality at the convention.
"It's great to win, but to work with creative, kind people was the best part of the process," remarks Rikka. No doubt being approached by professionals from high-profile investment firms and tech-based companies after his team's prototype won against 20 other high-caliber initiatives was not bad either.