LAU student wins at Murex d'Or
Pharmacy student wins Best Promising Actress Award at Murex d'Or 2013.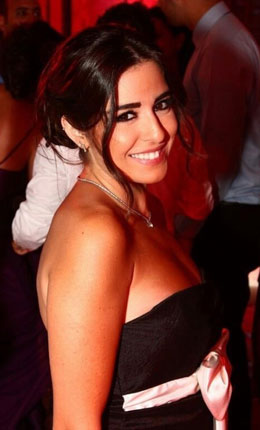 Each summer, a star-studded event is orchestrated at Casino du Liban to honor the achievements of Lebanese and Arab artists and media personalities in the region. The Murex d'Or (also known as the Golden Murex award) is an award established in 2000 by Lebanese physicians Zahi and Fadi Helou to support the arts in Lebanon. With such a legacy, it seems particularly fitting that an LAU pharmacy student, Sara Abi Kanaan, took home the prestigious Best Promising Actress Award for her work in the new film "24 Hours of Love" this June.
Kanaan shares the spirit of the founders of the award and although she is training to be a scientist, she knows the value that creative expression can bring. Her acting career was launched rather serendipitously at the tender age of eleven when a movie producer discovered her during a vacation at her family chalet. A person of many passions, Kanaan is equally avid about the health sciences as she is about her acting career.
"Being involved in acting as an extracurricular activity has helped me increase my personal confidence and helped me to manage my time," she explains.
According to Rana Shehab, academic assistant in the Student Affairs Office, "Sara has a very positive attitude and is a hard worker. Her attitude extends to her relationships with her classmates and teachers as well."
Demonstrating her ability to win people over, Kanaan was able to take home the Best Promising Actress Award by relying on her supporters to vote for her. This award is a newly-established category in the competition and the selection of the winner saw a combination of jury evaluations and fan votes on the Murex d'Or official website.
"Most winners at the award ceremony know in advance if they have won, but our category was the most suspenseful since we found out right on the stage who had won," enthuses Kanaan. "It was such a shock to hear my name!"
Though acting and pharmacy may seem like an unlikely coupling, Kanaan says that the former helps the latter, particularly with respect to communication skills—a necessary trait for any well-trained pharmacist.
"LAU has provided me with tremendous support as I juggle my priorities as a budding pharmacist and aspiring actress," says Kanaan. "My advisors and professors have always been supportive and encouraging, and I hope to make them proud."