LAU student wins award for computer science project
Amer Mouawad's "The Whistler" identifies songs when people whistle the tunes.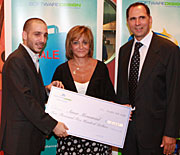 LAU student Amer Mouawad accepts his $2,500 prize from Raymonde El Hayek, general manager of SDCG, and Michel Nseir, CEO of SDCG, at the October 15 ceremony.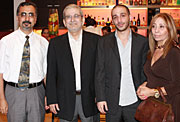 Mouawad with his parents and project advisor Dr. Nashat Mansour (1st from left), assistant dean of LAU's School of Arts and Sciences in Beirut.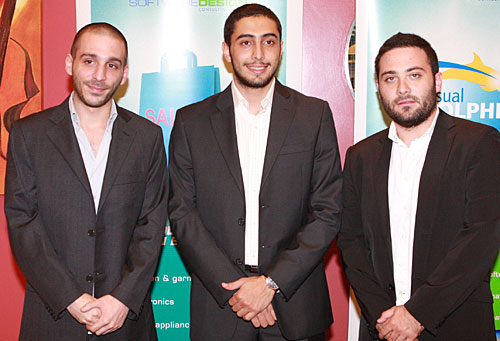 Mouawad with the two other winners of the SDCG competition.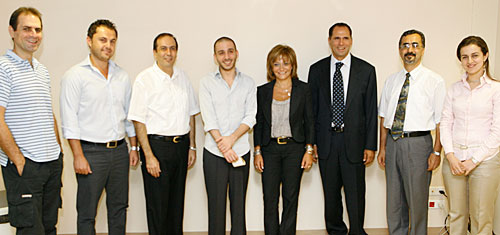 Picture taken at LAU, where SDCG representatives were invited for lunch and for handing Mouawad the check. Mouawad with company reps and LAU faculty members (From left: Dr. Ramzi Haraty, Dr. Azzam Mourad and Dr. Samer Habre, chair of the Computer Science and Mathematics Department in Beirut; From right: Dr. Sanaa Sharafeddine and Dr. Nashat Mansour, assistant dean of LAU's School of Arts and Sciences in Beirut).
Click on any photo above to view all four images
LAU computer science graduate student Amer Mouawad was trying to think of an idea for his final-year project while sitting with some friends at the end of the spring 2009 semester, when his friend started whistling a song. Though he did not guess the song, Mouawad did get an idea for his project — "The Whistler: A Query by Whistling Search Engine."
Within about five weeks Mouawad developed a computer application that identifies songs when people whistle them into a microphone.
Along with other LAU computer science students, Mouawad presented the project at an LAU event in June, and a committee of professors found his project to be the best.
This automatically qualified him for an award by the Software Design Consulting Group, a Lebanese software company that operates locally, regionally and internationally. The company granted a $2,500 prize to Mouawad, as well as two third-year students from the Ecole Supérieure d'Ingénieurs de Beyrouth of the Université Saint-Joseph, for their innovative software projects. Mouawad received the prize during a ceremony on October 15 at "L'Atelier," Berytech 2.
Dr. Nashat Mansour, assistant dean of the School of Arts and Sciences in Beirut, who was one of the professors on the committee and also Mouawad's advisor for the project, explains that the two things that distinguished "The Whistler" were how unusual and innovative Mouawad's idea was and "how hard he had to work in order to implement a system like this."
"He had to learn quite a few things by himself that he had not learned in the normal courses that we offer. He had to go one step ahead," Mansour says. "It was really impressive what he did in this short period of time [given for the project]," he adds.
When asked how his project relates to a similar application for Apple's iPhone, Mouawad replied, "I didn't know about the iPhone [application] until after I finished my project. It's something different."
With the Apple application, he explained, the phone picks up the melody from a playing song (not a whistle) "and tells you what the song name is," whereas with "the 'Whistler,' you whistle any part of the song and it tries to match it to a list of songs in a database." It's hard to compare them, he said, because they use two different techniques.
Mouawad joined LAU as an undergraduate student in computer science in 2004 and is now completing his M.S. in computer science.
As a research assistant with Dr. Faisal Abu Khzam, assistant professor at LAU's Department of Computer Science and Mathematics, Mouawad is currently working on research in theoretical computer science, including graph algorithms, exact algorithms and parallel algorithms.
On November 22, Mouawad will be traveling to Alexandria, Egypt, for the four-day Arab and North Africa Regional Programming Contest with five other LAU students — some of whom were winners of the first Lebanese Collegiate Programming Competition held at LAU in July — and Dr. Abu Khzam.
Mouawad hopes to win so that the team can go on to the ACM International Collegiate Programming Contest in China.
After he graduates next year, Mouawad is planning to pursue a Ph.D. and later an academic career.