LAU student wins award for project designed to aid physically challenged people
Hussein Mohsen brings home a "Best Oral Presentation" award from an applied computing conference in Dubai.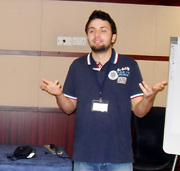 LAU student Hussein Mohsen presents the final-year project he worked on with fellow students Marwan Fawaz and Karim Jahed at the Third Annual Undergraduate Research Conference on Applied Computing, held in Dubai.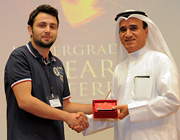 Mohsen receiving a "Best Oral Presentation" award from Dr. Sulaiman Al Jassim, vice president of Zayed University that hosted the conference.
LAU computer science student Hussein Mohsen, 21, won a "Best Oral Presentation" award for a project designed to aid people with physical challenges at a Dubai conference.
The Third Annual Undergraduate Research Conference on Applied Computing, hosted at Zayed University in Dubai from May 4-5, brought students from universities around the Arab world together to present research projects and attend lectures and panel discussions.
The conference, according to the host university's website, was designed to "engage undergraduate students in applied research to inspire them to work hard on things that matter to them, their society, and the rest of the world."

Mohsen, who will graduate in June with a B.S., traveled to Dubai to present a final-year project that he worked on with fellow LAU students Marwan Fawaz and Karim Jahed.
Titled "Multipurpose Speech Recognition and Speech Synthesis System," the project the trio created is an "interactive environment with the computer where the user can ignore using the mouse," Mohsen explains. "It can be an effective aid tool for people with physical challenges," he adds.
"It employs both speech-recognition and speech-synthesis technologies, and builds some applications on top of them," Mohsen says. These applications include dictionary, calculator, speech-based search engine, image gallery, weather forecaster, and a movie guide.
The Dubai conference included 60 oral and 62 poster presentations. Projects were assessed using a two-phase process: abstract evaluation, and poster and oral presentation evaluation.
Mohsen won one of five "Best Oral Presentation" awards, which held equal weight and were given in no particular order.
Only half of the papers submitted to the conference were accepted and invited to the conference in Dubai, according to Mohsen, and the LAU group he represented was the only one from a Lebanese university.
Mohsen heard about the conference from Dr. Nashat Mansour, assistant dean of Arts and Sciences at LAU Beirut and professor of computer science, who also served as the group's project adviser.
According to Mansour, giving students the opportunity to participate in such conferences is important for their educational and personal growth.
In such forums, he says, a student has to work hard on presenting and defending his idea, methodology and results to peers and professors from all over the region. "This process is at the heart of both science and entrepreneurship. The student will also be exposed to what others have been doing, which broadens his/her horizon beyond the limited circles of his/her home university," he says.
The project Mohsen presented in Dubai was also one of the two senior projects that recently got the Best Capstone Award for the academic year 2010-11 at LAU.