LAU students, alumni roll up sleeves for relief work
While most Lebanon residents watched in shock as the country turned to rubble in the summer of 2006, hundreds of LAU alumni and students preferred to get up, go out and lend a hand to war victims.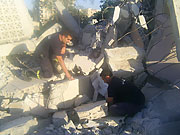 Hassan Moughnieh and Sobhi Siklawi took part in rescue efforts with Lebanese Civil Defense.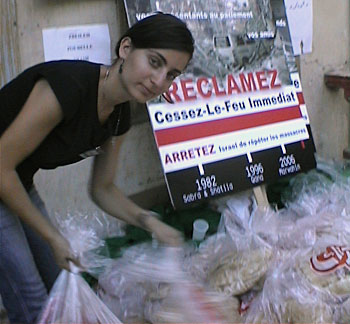 Amira Dandan packing fresh bread for refugees.

Click any image to view all eight pictures.
While most Lebanon residents watched in shock as the country turned to rubble in the summer of 2006, hundreds of LAU alumni and students preferred to get up, go out and lend a hand to war victims.
According to Dr. Tarek Na'was, the dean of students in Beirut, about 300 students are reported to be volunteering in relief efforts with various groups, not counting those who are affiliated with political organizations.
"Their efforts ranged from collecting food rations and aid for the displaced to conducting relief work on the ground and even assisting in rescue operations of people trapped under the rubble of their homes," Dr. Na'was said.
The volunteers also helped in various other capacities. They created websites for aid groups; established media relations and produced movie clips on the displaced; provided constructive activities for children; and gathered field data to assess needs.
Some volunteers teamed up with such efficiency, their groups took on NGO status.
That was the case with Mowatinun ("citizens"). It began when eight people, including four from LAU, gathered at a friend's house to make sandwiches and deliver them to schools sheltering refugees in Beirut.
"When the war started, we didn't have much to do at work," said Dima Geagea '02. "I impulsively took my car and toured shops asking them for any help they could give for the displaced," she said.
Then she and her friends created a small fund. Neighbors and strangers soon pitched in with food, medicine and money. "One family provided us with a house in Sanayeh (Beirut), which we took as our headquarters and warehouse during the war," said Nadim Zaazaa, who is working towards a master's degree in international affairs at LAU.
The group, which has no political or sectarian affiliation, soon launched a website. "This helped in getting us donations," Zaazaa said. Friends that had fled Lebanon were recruited as "correspondents" in their respective countries. "They helped spread the word about our work and this way we got more aid," Zaazaa said.
The group soon won the support of local, Arab and international donors who contributed funds, food, medicine and other in-kind donations, reaching more than 9,000 displaced people.
Zaazaa even quit his job to become a full-time volunteer. "I couldn't stand sitting behind my desk, having coffee and monitoring the news all day. I felt I needed to do something worthwhile," he said.
Samidoun ("staying put") was another grassroots organization set up with participation of LAU students and alumni.
The group was established in Beirut and moved south when the war ended, surveying and mapping villages. It compiled a listing of residents and needs, and documented the damage.
As a result, UNHCR signed a $100,000 contract with Samidoun to supervise the distribution of aid to southern villages, based on the extensive database the group had created.
"We started with six people—three from LAU—and L.L. 50,000 (about $33) in our pockets gathering in Zico House in Sanayeh and we ended up with a network of over 300 volunteers covering 33 schools and helping 12,000 displaced across Lebanon," said one of the founders, Mohammed Qaryouti.
Qaryouti, a Palestinian student at LAU, continues relief efforts from the southern city of Tyre. While he can't go to Palestine, he said, "people in Lebanon are like my own and I feel compelled to help by all means."
Other students and alumni volunteered with the Lebanese Red Cross, Civil Defense and Higher Relief Council, serving througout the country in various capacities.
Jalal Hasbini, a business administration student, offered his services to garbage-collecting company Sukleen after its foreign workforce fled. "I started cleaning my own street," Hasbini said. "Any work you do will make a difference," he said.
Outside Lebanon, LAU students and alumni were eager to help, too.
In Syria, they assisted people who sought temporary refuge there, even receiving them in their homes in Damascus. Aladdin Abdul Halim '05, who works at a mobile phone company in Syria, would take part in relief activities after hours with a Syrian youth group including five LAU alumni.
"It is very touching and hard to see displaced people from Lebanon in Syria, especially after living in Lebanon for four years and closely knowing the Lebanese people," Abdul Halim said. His group contacted the Education Ministry in Syria to open up the University of Damascus' dormitories to refugees. The group also sought assistance from youth associations, the Syrian Red Crescent and UNHCR to gather aid.
In Saudi Arabia, Lebanese and Saudi LAU students worked at the Lebanese embassy and consulate in Riyadh and Jeddah collecting, packing and shipping rations. Similar efforts were made in Kuwait and the UAE.
Students were also active in Jordan through the Lebanese embassy and through involvement in fundraising campaigns. International students also took part in sit-ins calling for a ceasefire and fundraising in other countries.
By their work, volunteers came close to the personal tragedy affecting thousands of Lebanese. "We started to refer to people in the schools by name and not as a statistic anymore and this made a big difference in the nature of our work," said Zaazaa.
"I felt so touched just to hear people praying for us. This work made me forget about the war," said Geagea.