LAU students get ready for sixth annual Model UN program
The students attended a weekend-long training session in preparation for the 2010–2011 program to be launched next month.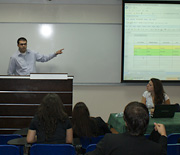 LAU students involved or interested in the LAU MUN program gathered for a training session on the Byblos campus, in preparation for the program's launch next month.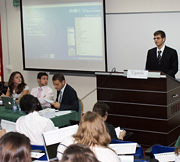 Students take part in the mock simulation, which was the last step of evaluation to select the team who will be training high school and middle school students.


Elie Samia, executive director of the Outreach and Civic Engagement unit at LAU and LAU MUN program director, giving a welcoming speech to the MUN secretariat.
Click on any photo above to view all three images.
In preparation for the sixth annual LAU Model United Nations program that will kick off on December 4, over 100 LAU students involved or interested in the program gathered for a training session on the Byblos campus, November 13-14.
The weekend-long training included an introductory session for new students to become acquainted with the program's objectives, a reunion for returning students, and an overview of UN facts and topics that LAU students are required to know to be able to train the students who will participate in the program from different schools across Lebanon.
Under the motto "Youth Can Change the World," AL WALID GC-LAU MUN is broadening its scope this year by including seventh and eighth-grade students, in addition to high schoolers.
"We are seeking to expand the middle school experience and plant a seed of aspiration in young Lebanese students with an opportunity to join MUN, where these young people will further grow and develop important life skills and leadership qualities," says secretary-general Rindala Mikhael who will lead the MUN secretariat of high school students this year.
Logistically, the middle school and high school programs will be conjoined. Participants of all ages will gather on the same days for training sessions at their designated campuses, LAU Beirut or Byblos, and within their MUN committees.
During seven training sessions, they will learn about the UN procedures, their committees, and various international issues.
Through public-speaking and debate exercises, MUN participants will sharpen their abilities to engage themselves and others in peaceful, constructive dialogue. With an emphasis on UN reform, UN peaceful actions, and the collective means of peace-loving, sovereign nations, participants will explore the history of international communities that have used peaceful resolutions to alleviate global crises.
The training sessions will prepare them for a two-day final conference to be held in spring 2011, where they will assemble to pass resolutions, simulating the actions of UN member states' representatives.
Middle school participants will be exposed to the same program as high school students, but in a manner that is catered to their education experience.
"The high school and middle school participants are a part of the same program with the same presentation of themes, but the sole difference lies in the presentation of the information," explains Joelle Eid, secretary-general and director of training of the middle school MUN program.
"Our incentive for these middle school students is to create a fun, interactive environment from where they will also learn how to hone the same skills we are teaching the high school participants," she adds.
During the November 14 sessions, interviews were conducted to select the LAU students who will be serving as this year's MUN trainers.
A mock simulation of the UN General Assembly on the topic of global warming took place to evaluate those interested in becoming trainers, and to give them an insight on what their younger counterparts will be expected to take part in. Potential trainers were informed about the program's disciplinary guidelines and procedures.
Elie Samia, executive director of the Outreach and Civic Engagement unit at LAU and LAU MUN program director, was present to oversee the interviews.
Speaking at the event, Samia emphasized the program's principles to uphold leadership qualities and skills. He reminded LAU students about the importance of acting as role models for all the participants.