LAU students run weekly radio talk show
LAU Communication Arts students go from strength to strength with weekly Radio Liban youth-focused phone-in.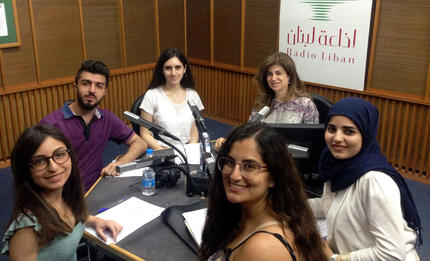 Five students from LAU's Department of Communication Arts program have been collaborating with Radio Liban and the Outreach and Civic Engagement (OCE) unit over the past three months to produce a weekly live radio show focused on issues related to youth.
The Arabic language phone-in is part of an initiative spearheaded by Radio Liban that has a group of students from different universities present their own weekly 50-minute chat show under the name 'Gina Nihke' (We Came to Talk).
"We've been working on a number of initiatives to engage Lebanon's youth, and these youth-led programs are a culmination of those efforts," explains director of programming at Radio Liban Rita Noujaim. "The LAU team has proved very successful and strong, selecting rich topics and addressing and presenting them in an engaging and entertaining manner," she adds.
LAU student Rachid Hneineh is grateful for the opportunity to learn from experts and apply the skills he has learned as a Television and Film major at LAU in a professional setting. "It's been very challenging but very rewarding," says the first-year student. "I like working on audio effects, and matching them to each of the topics we discuss."
The episodes cover discussions on a wide array of topics ranging from the importance of sleep and Lebanese journalism to Alzheimer's, youth immigration, poetry, historical sites in Lebanon and the effect of social media on youth.
"We curate the show together as a team, and while we each research a different topic, we're very much presenting and answering calls and messages as a unit," says Rana Tabbara, who was selected, along with Hneineh, Monica Elias, Sally Farhat, and Sandra Azki, after an application process run by OCE.
"They're improving week on week and learning so much, completing their education in English with work experience in Arabic," says Sherine Khalifeh, from the OCE. Together with Radio Liban host Nada Kouatly, Khalifeh has been mentoring the team on a regular basis, running through story ideas and reviewing the previous episode's discussions.
While the topics are all intentionally youth focused, many of those who call in are in their twenties and thirties. "We also have a lot of parents interested in engaging with us, which is great," says Tabbara, adding that LAU has equipped them with the right skills to use the sophisticated material in the studio, prepare scripts and work in groups.
"Our multimedia journalism program prepares students to work in the industry starting from their first year of study," said Chair of the Communication Arts Department Jad Melki. "By the time they graduate, they will have acquired cutting-edge professional and research competencies that position them to be leaders in this rapidly evolving profession and help them reinvent the field of journalism," he added.
Tune in to the show every Monday at 5 p.m. on 98.1FM and 98.5FM.