LAU students step up to protect Lebanese democracy
Around 20 LAU students have decided to take a hands-on approach in politics by monitoring upcoming elections.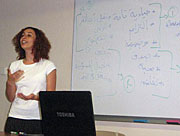 LADE trainer Rima Najdi prepares LAU students for election monitoring.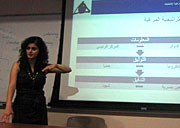 Sahar Tabaja, LADE training officer, during the LAU workshop.
As the country and the world are anxiously awaiting Lebanon's parliamentary elections on June 7, around 20 LAU students, most of them political science majors, have decided to take a hands-on role in ensuring fairness during what is certain to be a historic political event.

On a quiet Saturday afternoon exactly a month before the elections, the students gathered in a Business Building classroom, on LAU's Beirut campus, to learn how to monitor the elections for fraud or violations of any kind.

On the election day, the LAU volunteers, like all the other monitors, will be sent to different corners of the country, usually according to their own electoral district. They will be put in groups of three and given one or more polling stations to watch. They have been specifically instructed to tell their supervisors about observed violations before telling the media.

LAU student Layla Kabalan, one of the monitoring volunteers, said that all Lebanese voters should be given the same training, if only just to know their political rights.

"It shed lights on tons of things in the law, the elections days, and the process that I was not aware of, and I am pretty sure that most citizens are not," she said.

"The students are very excited," said Dr. Imad Salamey, an LAU assistant professor of political science, "because they feel they are being considered important actors in this process, because they are making sure that the elections are being [conducted] in a transparent manner, and their role is crucial to make sure that the democratic process is achieved."

The students who attended the workshop were trained in the specifics of how monitoring will be conducted on every level, including candidates, political parties, the Ministry of Interior, and the Supervisory Committee on Electoral Campaign.

In a previous workshop on April 8, they had been taught about Lebanese electoral law and the legal system in general.

The workshops were conducted by the Lebanese Association for Democratic Election, a civil society organization founded in 1996 to ensure democratic principles in Lebanese elections.

According to LADE training officer Sahar Tabaja, the LAU students "stood out in their level of participation and enthusiasm in both workshops."

"Compared to other volunteers their age, they were very curious about every step in the electoral monitoring process, asking many questions, and indicating … that they promise to be some of our most reliable observers on e-day," Tabaja added.

Rima Najdi, the volunteer trainer for the LAU workshops, agreed: "It was one of the most amazing groups that we worked with." The students "were enthusiastic [and] positive. They wanted to be involved and they had a positive spirit… In other groups, not all were as active."

LAU student Rida al-Masri said he was looking forward to being an election monitor, both for its political importance and its hands-on application of what he had been learning in class. "It's something that I study and would like to see how it actually occurs on the ground," he added.

Another LAU student, Dina El-Seyid, said that she felt their role was important, because it "increases voters' confidence that they can safely and secretly cast their ballots and that vote tabulation will be conducted without tampering."

Both Tabaja and Najdi said the LAU administration was both helpful and supportive, offering them classrooms and resources for the workshops, and encouraging student participation.

The volunteers will be operating under the full protection of the law,
and will be rewarded with an electoral monitoring certificate for their
contributions.

While LADE receives funding from a wide variety of NGOs and international organizations, the training program is specifically funded by the National Democratic Institute, the Canadian Department of Foreign Affairs and International Trade, the Friedrich Ebert Foundation, and the Arab Fund for Democracy.