LAU students take the innovation challenge
LAU alumnus and Emirates Computers CEO Hani Harik engages LAU students in an innovation challenge.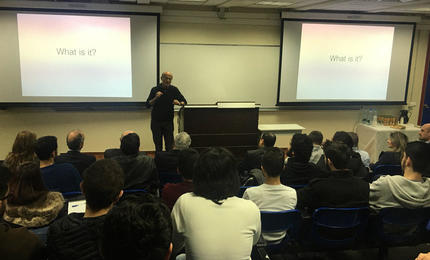 Tens of engineering students gathered last week as LAU alumnus Hani Harik, CEO of Emirates Computers, announced the launch of the LAU Innovation Challenge.
The objective of the initiative, placed under the School of Engineering, is to have 12 to 15 multidisciplinary teams develop solutions to real–life problems by exploring their ability to prototype designs using a variety of tools, like 3D printing, embedded systems and software development, among others.
"This exercise is designed to take you out of your school into a field trip," Harik told the students. "This is not a competition―there is no success, no failure―it's about learning through practice, and creating."
The former student in Computer Science explained that his goal is to help the students and encourage them to get a much needed experience that would make their CVs more appealing. "Creating, making, practicing, failing is the best teacher. If we do not try, we do not learn," he declared, stressing the importance of multidisciplinary engagement.
For LAU President Joseph G. Jabbra, such initiatives speak to the university's mission to serve its students and the society it is part of. "The 21st century belongs to innovators, to those who can bring theory and practice together. And we, at LAU, believe in giving our young people the opportunity to explore the world, to focus on its challenges and find the solutions that affect it."
More than a student learning experience, Harik wants this project to help forge a different culture student/teacher relationship where professors will be seen as mentors and tutors.
"As a faculty member, I strongly believe that this opportunity will be among the best learning experiences for our students, and a model to foster at LAU," says Associate Dean and Professor Barbar Akle. Akle, in fact, received a good number of submissions from attending students eager to participate in the initiative. "The quality and the number of submitted proposals proves that it will be tough for the LAU Innovation Challenge oversight committee to select the top 15 projects," he said a week after the announcement was made.
James Akl, a second year student in mechanical engineering, is definitely taking up the challenge. "I like creating and I like combining art and technology and this project is an opportunity to do just that," he said after Harik's presentation. "I am thankful to LAU for giving us this chance."