LAU students take the lead through community outreach, civic engagement
LAU's newly formed Outreach and Civic Engagement unit is at full throttle, encouraging student leadership and activism.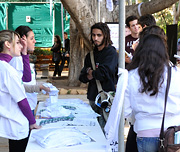 Working with NGOs and other LAU offices, the Outreach and Civic Engagement office organizes awareness-raising activities on a range of issues.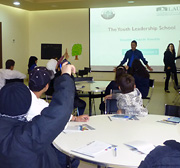 LAU students train a group of public school students in Sidon as part of the Youth Leadership School launched by OCE and Al Safadi Foundation last month.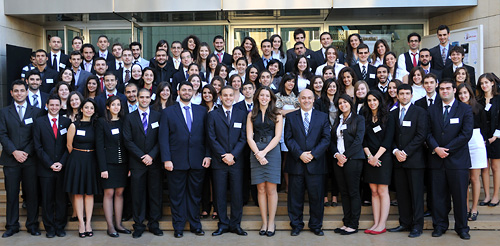 The LAU Model United Nations program, in which hundreds of LAU students and pupils from Lebanese schools are involved every year, now falls under OCE.
Click on any photo above to view all three images.
Community outreach, philanthropy, leadership and student activism are on the rise at LAU, thanks to the projects and events of the new Outreach and Civic Engagement office.
Elie Samia, executive director of the office that was established in October, describes it as a student-centered unit involved in the creation of future leaders. "It aims at engaging students with civil society and adds extracurricular activities that build a well-rounded personality," he says.
Samia "is nurturing and developing students who have limitless potential, and the unit is already a beehive of student activism with a wonderful, creative spirit," says Dr. Elise Salem, vice president for Student Development and Enrollment Management.
An event to mark the beginning of the Lebanese Civil War on April 13, 1975 is currently being planned by OCE for April 2011, when students will gather to establish a Guinness World Record by having a water fight with 150,000 water balloons, as a way to poke fun at the futility of war.
Samia is extremely proud of such ambitious ideas. "The whole beauty about this unit is that we ignite the spark, coach, facilitate and motivate the students," he says. "But they're the ones with the passion and energy to run the projects. They're active, creative and competent, and this becomes a snowball of positive energy because their enthusiasm is so contagious," Samia adds.
OCE projects focus on a diversity of issues — from environment clean-up outings to tackling human rights issues, youth empowerment, and violence against women.
Last month, OCE was involved in the organization of several activities to raise awareness about domestic abuse and violence against women. These events were held in partnership with local and international non-profit organizations, the UN Information Center in Beirut, and LAU's Institute for Women's Studies in the Arab World.
Also last month, OCE launched the Youth Leadership School: "Youth Teach Youth" in collaboration with Al Safadi Foundation. As part of the program, students between the ages of 12 and 14 from around 50 public schools in Sidon and Tripoli were trained by LAU students in conflict resolution, peace education, public speaking, and leadership.
"By training the trainers, we're able to narrow the age gap between the student trainers and the trainees so that our students become role models and are thus able to creep into the pores of civil society," says Samia.
This year, OCE is planning to host the second LAU NGO Fair, supported by the Minister of Social Affairs. It will also hold the LAU UN Fair, exposing students to 22 organizations and specialized agencies that will be offering very sought-after internships.
By allowing students to create their own opportunities to help their societies, Samia and his team are aiming to become part of Campus Compact, an American organization dedicated to promoting community service and civic engagement in higher education, allowing LAU to share its success stories with the greater community. The recently launched LAU Student Leadership Magazine will be used for the same purpose.
One of these already well-established success stories is the LAU Model United Nations program, which recently inaugurated its sixth consecutive year and now falls under OCE.
Previously only open to grade 10 and 11 students, the program has also invited grade 7 and 8 pupils to join this year. Over 1,000 participants are being taught public-speaking and negotiation skills by LAU students, allowing them to step into the shoes of ambassadors while working in model UN committees.
In addition to local projects, the unit's International Exchange and Study Abroad program is linking LAU to some of the best Ivy League universities, including Princeton and Yale. "This takes them out of the cocoon of their society, and allows them to be well-traveled, exposed and experienced," says Samia of the participants.
He adds: "We want LAU not only to provide a classical education, but also to build on students' character, emotional intelligence, and sense of volunteerism. We want them to serve society."
Please contact the OCE team for more information about the unit and its activities.