LAU students volunteer at UN convention on cluster munitions
108 students supported conference organizers, assisted diplomats and participants, and worked in press and IT teams at an international convention in Beirut.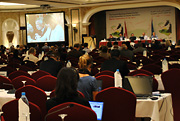 Over 1,000 participants from around the world converged at the Second Meeting of States Parties to the Convention on Cluster Munitions.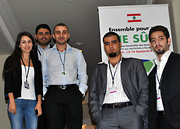 LAU students in the conference plenary support team.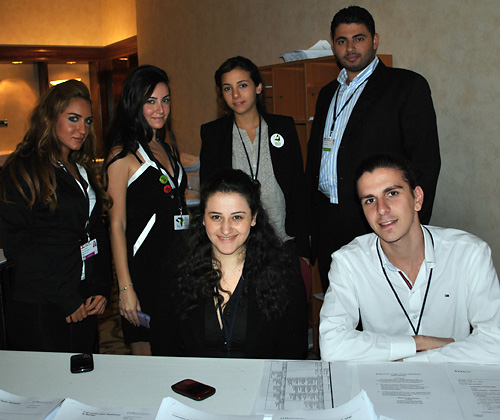 The distribution team, composed entirely of LAU students, was responsible for filing, sorting and handing out printed material to the participants.
Over 100 LAU students volunteered at an international convention on cluster munitions hosted in Lebanon from September 12-16.
The Second Meeting of States Parties to the Convention on Cluster Munitions was organized by UNDP in coordination with the Lebanese Ministry of Foreign Affairs and Emigrants. Held at the InterContinental Phoenicia Hotel in Beirut, it drew 1,220 participants from 58 countries representing various UN agencies, international organizations and civil societies.
The 178 student volunteers, of which 108 were from LAU, were involved in conference setup and support, and assisted participants at the airport and hotels. LAU students were especially active in the pressroom, and audio and IT support teams. Out of the 22 team leaders, 12 were LAU students.
"The fact that we had so many LAU student volunteers responding to our Outreach and Civic Engagement unit's call for service means LAU is presently at the forefront of social service and civic responsibility," says Elie Samia, OCE executive director.
In the airport sector, volunteers were present 24 hours a day. Their job was to welcome diplomats and participants at the airport, usher them and help them get registered. The transportation team was responsible for escorting participants to one of 12 designated hotels. Info booths at all of the hotels were run by LAU students.
"It's summer time, so universities and students are taking breaks. But at OCE, we like to give students more opportunities to participate in this kind of volunteering, and have real responsibilities," says Joseph Kanaan, OCE project management coordinator.
Launched in August 2010, the Convention on Cluster Munitions is an international treaty that aims to ban the use, production and transfer of cluster munitions, in addition to providing assistance to victims and affected communities. As a country that has been affected by cluster munitions, Lebanon ratified the treaty.
"As the problem of cluster munitions has long been prominent here, I felt it was an obligation to participate in this convention," says Sevac Ohanian, an LAU political science and international affairs student.
"I have responsibilities other than being a good student. I have to contribute to my society," he adds.
Deema Saidi, an LAU business marketing student, has been part of the Model United Nations program at the university since her first year. "I read about this conference and I thought it would be a good experience," she says. "It's different to work with the UN directly than just observe its work on TV," she adds.
"It's not just about having something extra to put on your CV," Kanaan says, adding that "the volunteers get a real taste of diplomacy at a UN convention, which is a great thing to experience, especially as a student."
Vice President of Student Development & Enrollment Management Dr. Elise Salem praised the students for a volunteering effort of this significance and magnitude, saying it is a "splendid contribution to the good cause of banning cluster munitions in Lebanon." She advises students to "keep supporting good causes and spread positive energies wherever and whenever needed."