LAU summer camps reward talent
LAU grants scholarships to winning high school students partaking in its summer camps.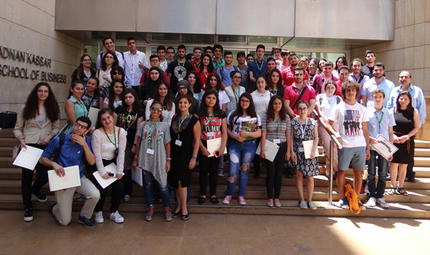 The sixth edition of the LAU summer camp―which took place earlier this month at LAU Beirut―offered 55 high school students the opportunity to delve into three disciplines, namely English speech writing, Arabic writing and computer science.
Notably, a new computer science summer camp was launched in Sidon on July 11, enabling students in the south of Lebanon to gain insight into the field.
"We felt welcomed into a family rather than a university," said Abed Saker, winner of the English summer camp. "It gave us the chance to get to know LAU as well as learn the tricks of public speaking."
This year's final competition challenged students to deliver a persuasive argument in favor of a cause they strongly believed in. Saker's winning speech powerfully advocated the separation of religion from the state, a topic dear to him.
In a bid to encourage young talents to pursue higher education, the first three classified students in each discipline are granted a scholarship: a 30 percent discount on enrollment fees for first place, 20 percent for second and 15 percent for third.
"I will definitely enroll at LAU," said Saker, who plans to major in physics with English as a minor. "No matter what you study, being able to communicate your knowledge is the key to success."
According to his tutor Reine Azzi, instructor of English and Moral Reasoning at LAU, the workshop has been far more than an English course. "Learning how to deliver a speech has made students more self-confident and motivated," she said.
The Arabic writing workshop was held for the second consecutive year by Iman Humaydan, renowned Lebanese writer, creative writing trainer, publisher and journalist. "It was the best workshop I ever gave," said Humaydan, who has been training students in Europe and abroad since 2007. "The students showed great maturity, motivation and interest in what is happening around them in the world."
Two former winners of the computer science summer camp and current students at LAU volunteered to assist this year's participants. "I see myself in them and I do my best to guide them," said Rania Islambouli, winner of the 2013 computer science summer camp. "Taking the workshop is what made me settle on computer science, and of course being granted a scholarship encouraged me to do so."
A similar experience was shared by Omar Farhat, winner of the 2014 edition. "I was thinking of majoring in engineering, but after I took part in the summer camp I decided I loved computer science," he said. "For me, it has been an enlightening experience and I am glad to help students make the best of it."