LAU team behind pioneering paper on delivery drones
Three faculty members of the Adnan Kassar School of Business publish leading study on consumers' attitude toward the use of drones as delivery tools.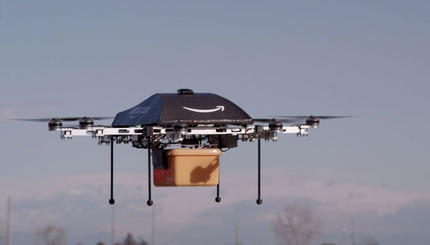 Delivery-service drones may become the personification of the retailer, and the higher the personification of the drone, the more favorable the consumer's attitude toward its usage. These were among the conclusions of a conceptual study authored by three assistant professors at the Adnan Kassar School of Business – Hospitality Management and Marketing department and published this month in the journal Technology Analysis & Strategic Management.
"My interest in the use of drones by retailers began around 2013, when Amazon first declared its intention to start using them as part of its distribution network," explains Zahy Ramadan, lead author of the paper.
Upon joining LAU two years ago, following 18 years as an expert marketer in the industry, Ramadan approached his colleagues Maya Farah and Mona Mrad proposing collaboration on research into the field. In addition to their shared specialization in marketing, all three are graduates of both LAU and the University of Manchester.
"We want to promote LAU in this pioneering research," says Farah of their research, the first of its kind in the field. "Drone usage is a hot topic, widely discussed on the consumer side, but not yet in academia."
For this paper, the authors applied the established and accepted 'theory of planned behavior' model to determine the attitudes, subjective norms and perceived behavioral control with regards to delivery drones. Based on these findings, they were able to predict the intention of customers to adopt the technology, currently in development across the globe.
Amazon has its own R&D department and is developing pilotless delivery drones; DHL have already used them in China; in Germany and the UAE, they are being used in ambulatory services; and Alrifai roastery used them in Lebanon a couple of years ago. "They have so far been used as a promotional tool, not as an ongoing delivery method, as is the intention of Amazon, and others," explains Ramadan.
"There are still a lot of logistical and legal issues to iron out before delivery drones become mainstream, so it is not yet possible to conduct surveys to gain further insight into consumer acceptance, but we are considering a content analysis of online consumer comments," adds Farah, noting that they are likely to publish another paper on the topic before the drones hit the skies, and more thereafter.
Another area of interest they are willing to look into is the effect of drone use on the consumer-brand relationship. "It will certainly be interesting to explore how the use of technology might change this relationship," says Mrad, whose research to date has centered around consumer-brand relationships and more specifically brand addiction. Ramadan anticipates a weakened relationship between consumer and brand. "Amazon wants to be the king of retail. They want to own the whole supply chain; including production, retailing and relationship. If you own the relationship, brands are done."
Ramadan's prediction however relies partially on the ability of Amazon and other retailers to develop drones that provide both effective and efficient delivery, which will impact the ease with which consumers will adapt to a shift from a relationship with people to one with technology. A study into consumer reactions to ATMs, one of the earlier technology-based self-service delivery options (SST) introduced en masse, may provide some useful foresight, says Farah.