LAU to get a center for innovation
Philanthropist and businessman Fouad Makhzoumi donates $3 million to establish the new hub.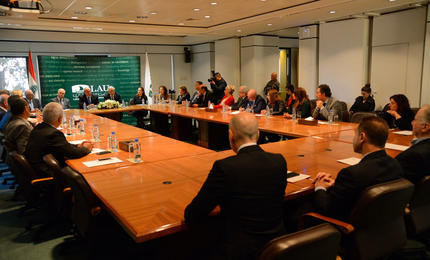 Fouad Makhzoumi has pledged $3 million to LAU in order to establish the Fouad Makhzoumi Center for Innovation.
"Since getting to know this institution, I realized instantly that it had a vision, in large part due to my talks with [LAU] President [Joseph G.] Jabbra," said Makhzoumi during his speech at a signing ceremony held last week on the Beirut campus which brought together his family and friends along with university officials to celebrate the occasion.
"Innovation is missing in this country," he continued. "You need business incubation. You need to get people to create a network for them in order to come up with those ideas. And this is where LAU, I believe, could do that."
The Fouad Makhzoumi Center for Innovation, which is set to launch in spring 2017, will focus on educational and training activities in the field of innovation including regular international conferences, scholarly workshops, lecture series, and international research to foster creativity and innovation.
During the ceremony, Jabbra discussed the Makhzoumi family's dedication to serving society and improving Lebanon, drawing parallels between their strong values and the university's purpose.
"Dr. Makhzoumi did not forget where he came from, and his philanthropic efforts and that of his wife May serve underprivileged people by providing them with the opportunity to have health services; micro lending opportunities; and training opportunities in order to make a decent life and live with dignity. And this is why this gathering is very important because that resonates very well with the mission of our institution," Jabbra declared.
Makhzoumi, who received an Honorary Degree in Humane Letters from LAU last June, is a strong believer in and supporter of the university, citing its innovative spirit in launching unique degree programs. "LAU thinks outside the box in terms of traditional education, setting up a fashion degree program and other similar initiatives. And we need to have such innovation. Innovation is what will procure a better future for our youth," he explained.
Makhzoumi is co-founder of Future Pipe Industries, and he and his wife established the Makhzoumi Foundation in 1997. The family has continuously supported LAU since their first gift in 2004. Their generous contributions have benefited a great number of students through donations toward scholarship funds and agreements that enable LAU's health schools to use and benefit from the Foundation's facilities, equipment, services and personnel.