LAU to offer capacity-building program for non-profits
The university shows its commitment to improving Lebanon's civil society by launching a new program to help enhance the management of NGOs.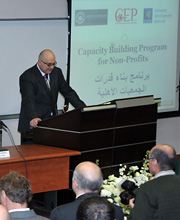 CEP Director Michel Majdalani speaking at a press conference about the launch of the new Capacity-building Program for Non-profits.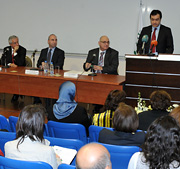 Attorney Rabih El Shaer, special adviser to Minister of Interior and Municipalities Ziad Baroud, gives a keynote speech to members of the media and NGO representatives.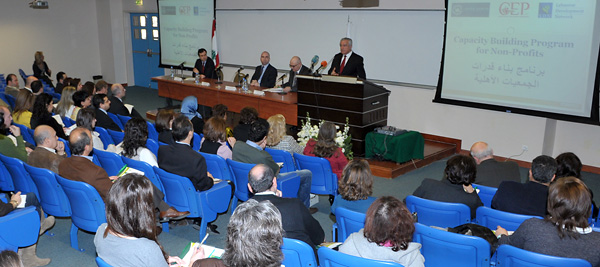 LAU President Dr. Joseph G. Jabbra applauds Lebanon's non-profits for their tireless community work.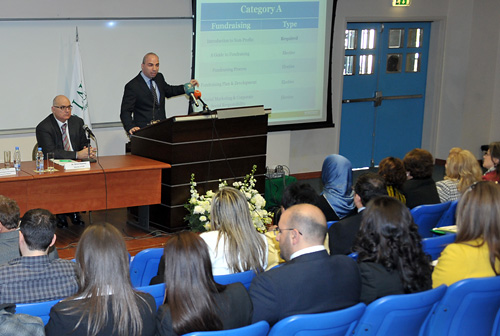 Amin Nehme, founder and president of the Lebanese Development Network, explains the new capacity-building program during the press conference.
Click on any photo above to view all four images.
Just as a solid foundation helps a house stand up to inclement weather, a strong civil society helps a country function through times of both stability and instability.
Lebanon's civil society relies on a network of local and international non-governmental organizations that provide services and encourage citizen participation. But the country's non-profit community has not been immune to the global financial downturn, and many organizations have found themselves strapped for material and monetary resources.
To help address this issue, LAU's Continuing Education Program, in partnership with the Lebanese Development Network, is offering non-profits its expertise and facilities through a new academic program for NGO professionals.
Titled "Capacity-building Program for Non-profits," the module targets NGO managers, program developers, fundraisers and team members, as well as corporate leaders involved in social responsibility, volunteers and community activists. Its objectives include addressing real-life problems in an interactive learning environment for the enhancement of the management of NGOs.
Registration for the 18-hour program is currently under way and courses begin March 7. Participants can opt for a diploma or a non-diploma structure, and choose a fundraising, management or personal dynamics track.
CEP and LDN organized a press conference at LAU Beirut's Business Building on January 20 to launch the program and raise public awareness.
"Through CEP, we are so excited to extend our hands to NGOs to help them build capacity to be able to care for those in need in society," LAU President Dr. Joseph G. Jabbra told NGO representatives, members of the media, and interested community members.
"We are here today to celebrate the tradition of giving of one's self so that others will have a better life," he added.
Attorney Rabih El Shaer, special adviser to Minister of Interior and Municipalities Ziad Baroud, gave a keynote speech on the minister's behalf, and Amin Nehme, LDN founder and president, introduced the program to the audience.
"We trust LAU and President Jabbra in what they're doing," said El Shaer. He added: "They're pioneers and we need others to follow in their footsteps for the good of those who benefit from NGO services and support."
Michel Majdalani, CEP director, says that having the support and endorsement of the Ministry of Interior and Municipalities for such a program is very important. "[It] issues legal permits and provides guidelines, rules and regulations for NGOs," he explains.
Majdalani hopes that in a two to three-year period, the program will be "a shining landmark" for the many types of NGOs and civil society organizations it will serve, with growing participation in Lebanon and across the region.