LAU to sign MOU with China's Renmin university
Agreement between the two universities will be the first such partnership for Renmin in the region.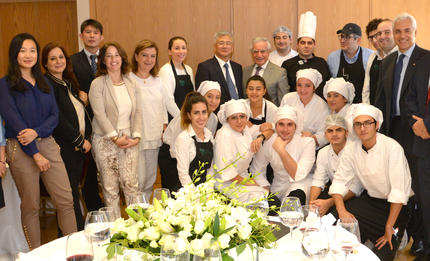 LAU and China's Renmin University will soon sign a memorandum of understanding to encourage and facilitate student and faculty exchanges and joint research. So said LAU President Joseph G. Jabbra and Jianming Zhang, Executive Vice Chairman of the University Council of Renmin University, during a luncheon held last week to welcome Zhang and his colleagues to LAU.
The visit, which took in a tour of the Beirut campus and a four-course meal prepared and served by the students of the hospitality program, was instigated by Adnan Kassar, patron of LAU's School of Business and chairman of Fransabank. Kassar had last year been featured in a book produced by the publishing arm of Renmin University about the history of Lebanon-China relations.
"Adnan Kassar opened the road between China and Lebanon in business and encouraged me to do that for education," said Jabbra during his address. "And now, by March at the latest, we will sign an agreement that will provide our students with opportunities to learn Chinese, earn a degree from there, facilitate faculty exchanges and collaborate on research that will contribute to both our universities and countries."
Like LAU, Renmin has a long history and several relationships with universities around the world. Although the Chinese system of education is based on the Russian model, they have been able to partner successfully with hundreds of universities in Europe and the U.S.
This new collaboration with LAU will however be their first such partnership in the region. "LAU and Lebanon are clearly the best choice for us to engage in the region," said Zhang, speaking enthusiastically after a three-day visit to the country. "This will be a start of a cooperation that will develop quickly in the near future."