LAU, UNESCO partner up to teach coding to high school students
The LAU-UNESCO Youth Coding Initiative familiarizes students with computing and programming skills in a bid to integrate those into academic curricula taught in Lebanese schools.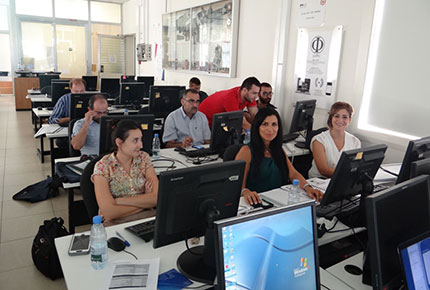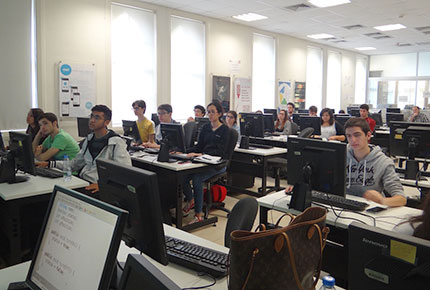 Since October, high school teachers and students from across Lebanon have been gathering regularly at LAU Beirut to learn how to create mobile applications.
The ongoing workshop series on computing and programming was set up by the LAU-UNESCO Youth Coding Program, a joint project between the university's Software Institute, the UNESCO Beirut Office and the Lebanese National Commission for UNESCO under the dome of UNESCO's YouthMobile initiative.
"We live in an increasingly digital age which relies on sophisticated, multi-purpose devices and mobile applications to find solutions to everyday problems. I think computing is a skill everyone, regardless of their current interests or future career choices, should tap into," said Sanaa Sharafeddine, associate professor of computer science and the director of LAU's Software Institute. "This initiative aims to help students explore the endless possibilities this kind of skills can provide, whether at school, university or in the workplace."
While teachers are equipped with training resources to incorporate into modules and curricula at their respective schools, students – in addition to a general introduction to computer science and programming – learn about programming in the Java language, programming for Android, designing mobile applications, creating application views and activities and applying persistence to the application. Each of the four workshop series culminates in a challenge: each team of students from the same school must create their own mobile application.
"The training is equally important for us [teachers] and students. Teaching students how to code at school should be mandatory across the country, because it would also help them choose their course of study," commented Michel Cordian, computer technology teacher at Montana International College.
"When one picks up a language at a tender age, the likelihood of easily mastering that language is much higher," Sharafeddine commented. "Computing is the driver of innovation in any kind of discipline, and exposing students to it before they reach university can potentially mold these individuals' choices and have a decisive impact on their future."
In total, 15 teachers and 70 students would have been trained by December 5, when a competition will be announced and certificates will be handed out to students and teachers.
The selection process gave particular attention to both less privileged communities and female students, with the aim of making computer science accessible to those who might otherwise find it difficult to gain access to the discipline.
According to the report "Connected Women 2015", 48% of women in the Arab world do not own a mobile phone. For one, Ruba el-Suhail, a tenth grade student from the Mustafa Shumran School feels "delighted and privileged to take part in the workshops." Commenting on the training, she said, "Whatever I decide to study, the skills I am acquiring here will most definitely add to my knowledge and empower me as a female leader."