LAU works to prevent the spread of H1N1
As the H1N1 flu virus continues to spread, LAU has established an Epidemic Steering Committee committed to raising awareness on prevention and care.
As swine flu continues to spread worldwide, LAU has established an Epidemic Steering Committee committed to raising awareness on prevention and care.
The university has issued advice and precautions to all students, staff and faculty. LAU Provost Abdallah Sfeir reminded the university community by email at the beginning of the academic year that, "Faculty are kindly reminded not to penalize students should they absent themselves. Staff are urged to provide support to students if and when needed."
Staff, students or faculty who get sick are advised to immediately contact the registered nurse of their campus: Joceline Karkour in Beirut, at extension 1132, and Maria El Ghoul in Byblos, at extension 2179.
---
H1N1: Frequently Asked Questions
These FAQs were emailed to the LAU community by Dr. Elise Salem, vice president for Student Development and Enrollment Management. She launched and is a member of the LAU Epidemic Steering Committee, which also includes the Deans of Students, directors of Guidance and registered nurses on both campuses, as well as Dr. Anna Farra, an infectious diseases specialist and a faculty member in the LAU School of Medicine.
What are the symptoms?

The symptoms are the same as the regular flu, with sudden onset of fever, coughing and airway symptoms. Occasional diarrhea might occur. In many cases the symptoms are mild.

When should I suspect that I have the flu?
It is cold season now, and every other person has a runny nose and coughs. If you have fever (38 C or more) and the above-mentioned symptoms, you can suspect the flu.

What should I do if I get sick?
If you have fever over 38 C, runny nose, sore throat, chills, GO STRAIGHT HOME by private car or taxi. Do not stay in your dorm room unless you have nowhere else to go. In any case, please notify the relevant school nurse:
Beirut: Joceline Karkour, ext. 1132
Byblos: Maria El Ghoul, ext. 2179

How long do I stay home?
STAY HOME for the duration of the fever and 24 hours after the fever has subsided (without the help of Panadol or other medication).

Will I be penalized at the university?
NO, as faculty are well aware of the epidemic. Provide reasonable support documents if you miss classes.

Is it necessary to get the H1N1 test?
NO, unless you are in a risk group or your physician has special reasons to advise you to do so.

Am I in a risk group?
The risk groups are:
• Children below 5 years of age;
• Pregnant women;
• People of all ages with another disease (asthma, diabetes, heart conditions …); and
• People over 65 years of age.

How is the flu transmitted?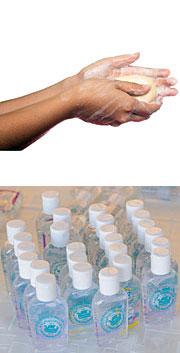 The flu is transmitted through droplets (aerosol) from an infected person. The virus can also be deposited on surfaces.

How do I prevent transmission?
Hand hygiene and cough etiquette as well as frequent cleaning of all used surfaces.

Shall I stay home if my classmate was sick yesterday?
NO, if you are healthy, you are supposed to come. Only exceptions will be made for people in risk groups on a case-by-case basis.

Shall I go to the pharmacy and start taking Tamiflu?
NO, if you are healthy, the benefits of antiviral medicine are of little value. If you are in one of the risk groups, contact your physician as soon as possible.

Should I be vaccinated?
Vaccination for the regular seasonal flu is recommended, even if it will not protect you against the H1N1 flu.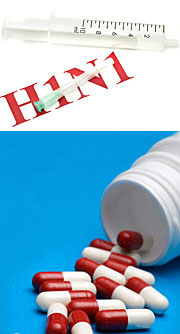 How do I protect myself?
• Avoid close contact with anyone sick.
• If you have symptoms (like common cold), avoid crowded places and follow cough etiquette (cough in a paper tissue and throw it).
• Use thorough hand hygiene. Wash your hands!
• Using a mask is efficient in a health care setting but very questionable in other settings.

These are some sites to follow the pandemic:
• World Health Organization
• Centers for Disease Control and Prevention
• European Centre for Disease Prevention and Control

For further information, please contact the Deans of Students at LAU:
Beirut: Dr. Tarek Na'was, ext. 1427
Byblos: Dr. Mars Semaan, ext. 2343