LAU workshops train teachers in educational technology
LAU and MSU experts taught Lebanese schoolteachers how to integrate technology in classrooms.

Dr. Joseph Codde, head of MSU's graduate Educational Technology Certificate Program, overseeing a session.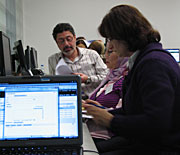 Participants during a group activity.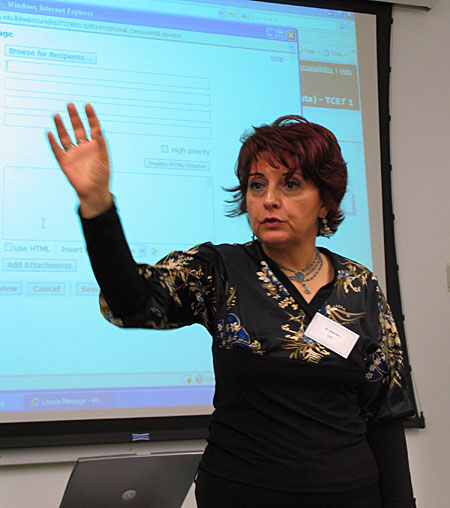 Dr. Iman Osta explains an exercise.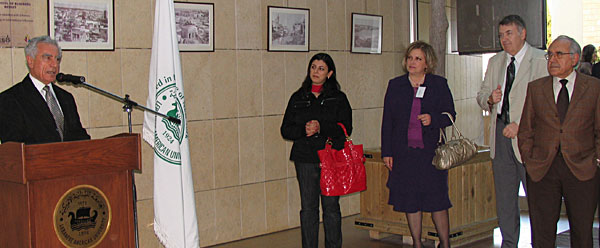 Dr. Joseph Jabbra, LAU president, welcomes trainers and participants at the event's opening ceremony.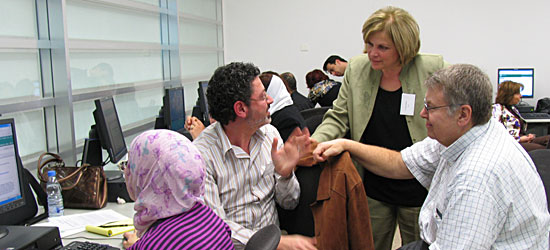 Drs. Codde (right) and Mona Nabhani (center), Teacher Training Institute director, talking to a participant.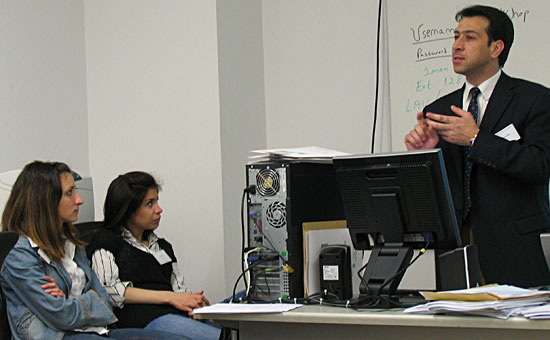 Trainer Bassem Kandil, who teaches at LAU's Department of Education, explains participants how to use the workshop forum.


During the workshop, participants developed teaching materials and applied them in the classes they teach.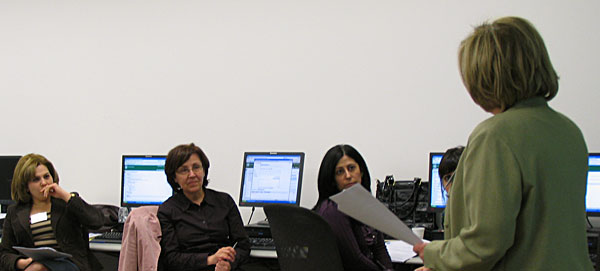 Nabhani discussing how to use technology in teaching media and democracy to secondary-level students.
Click on any photo above to view all eight images
Dr. Joseph Codde, professor at Michigan State University's College of Education, has experienced first-hand the benefits of educational technology in learning and teaching, through his extensive work in the United States and MENA countries such as Algeria, Dubai, and Lebanon.

"I was involved in a program in Algeria a while ago connecting high-school children from Algiers and the United States through blogging," Codde told 18 Lebanese schoolteachers, who participated in three educational technology workshops organized by the Teacher Training Institute of LAU's Education Department, and MSU, on March 7, 14 and 21.

"Imagine that after a while they realized they were more alike than they thought they would be," he added.

"Our students are raised in their homes with computers and television. When they come to school they feel bored because the teacher is speaking all the time," said participant May Merhi, Cycle 2 coordinator at Irfan schools.

Technology could provide solutions, "but we have to know how to use it," she added.

Merhi said their school was equipped with computer labs and Internet access. "But we have a problem; we need to integrate technology in the Ministry of Education curricula," she added.

The workshop series was special because it didn't only provide participants with technical training but also helped them apply the computer skills they learned to real-life situations, said Dr. Iman Osta, LAU associate professor of mathematics and computer education. "The teachers developed materials ready to be used in their classes," she added.

During the workshops that were held at LAU-Beirut, the teachers learned how to integrate technology in their curricula by developing PowerPoint presentations, screening documentaries in class, and using blogs to make courses more appealing to students.

This first series of capacity-building workshops, which gathered teachers from public and private schools across Lebanon, is part of a three-year cooperation between LAU's Department of Education and MSU.
The program goes beyond showing educators how to teach technology, said Codde, head of the program from the American side and supervisor of the workshops. "We want to teach teachers how to teach with technology," he added.

Osta, who's the program coordinator in Lebanon, said the project aimed at developing an LAU educational technology program by exchanging expertise between teams from both universities and adapting three MSU courses.

The project, which is in its second year, is funded by a USAID and Higher Education for Development grant.