LAU writing center supports schools nationwide
School and university educators and administrators gather at LAU Beirut to learn from the experiences of the writing center and to network.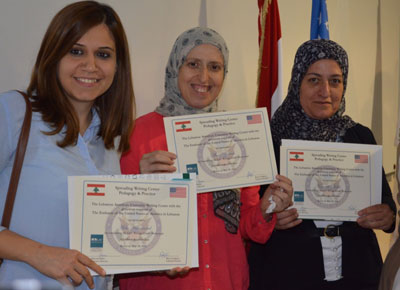 "Getting help isn't a sign of weakness but a sign of strength." So said Director of the LAU Writing Center Paula Habre last week, quoting First Lady of the United States Michelle Obama who, in a recent speech, advised students to "get yourself to the writing center."
Habre was addressing two dozen school and university educators and administrators. They had gathered at the Beirut campus to receive their certificates for completing a tailored training program delivered through separate sessions over the past two months by Habre, writing center tutors, and a guest speaker who made her presentation and interacted with the participants through Skype from LAU's New York headquarters.
The certificates were handed out by LAU President Joseph G. Jabbra. "You can't be excellent without being able to write, communicate well and express yourself," he said. Jabbra highlighted the impetus behind the writing center, launched in Beirut in 2010 and at the Byblos campus in 2014, and its desire to implement the practice throughout schools in Lebanon.
"The LAU program was a generous one," said Rose Lindgren, the cultural attaché at the U.S. embassy in Lebanon which funded the training following an open call for proposals. "It did not focus on expanding itself but reaching out to others all over Lebanon."
The program offered an insight into the theoretical and pragmatic components of the schools' writing centers. It afforded participants the opportunity to hear and learn from the experiences of tutors at the LAU writing center, and enabled educational institutions to foster connections.
Among the trainees who benefited from the course was Diana El-Hariri, an English instructor at the Lebanese International University. "I first proposed opening a writing center at LIU a year ago, after I became aware of the concept at LAU. They loved the idea, but now, after this training, I have something more tangible to present that will help create more excitement and hopefully lead to the necessary resources being made available," said El-Hariri.
As the budget of UNRWA schools is very limited, writing centers would be considered a luxury. Nevertheless, Mohamad Khatab, the principal of an UNRWA school in Sidon, said that training and discussions held at LAU would have an impact. "Our overall strategy and focus is to help students within the curriculum, not outside it. Writing centers are part of a new approach, and I intend to translate it in a way that is practical for our schools to implement."
Khatab's appreciation for the opportunity, knowledge and materials presented by LAU was echoed by all the participants, while Habre was pleased with the chance to reach out to schools nationwide. "We are proud of what we have achieved and happy to be able to share our experiences with other educators toward the betterment of all students in Lebanon."