LAU's Beirut campus sets higher efficiency standards
A new infrastructure plant and data center have been inaugurated in Beirut, aligning LAU with the latest technology to address the growing power demand.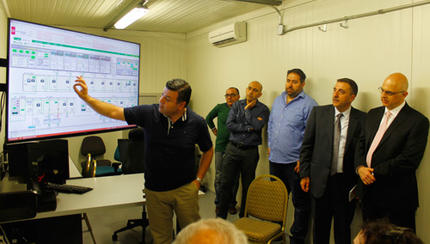 A complex and impactful project has been finalized by LAU as part of its efforts to address the growing power demand, enhance the existing facilities, ensure the latest technology and provide advanced high-quality services to the LAU community.
The official inauguration of the Beirut Campus Infrastructure Plant and Main Data Center took place in the presence of the Facilities Management and IT teams, LAU President Joseph G. Jabbra, the project's consultant Pierre Dammous & Partners (PDP) and the project's contractor Saccal Enterprises, among others.
With the completion of this project, LAU acquires a fully-automated 7,000 KVA power plant including a redundancy of 2,000 KVA feeding the campus facilities through an underground medium voltage loop cabling system. The newly developed Data Center conforms to the highest standards and requirements for redundancy and availability, meaning a fault tolerant site infrastructure with electrical power storage and distribution facilities guaranteeing around 99.99 percent availability.
As Jabbra remarked, "providing such highly reliable and state-of-the-art infrastructure systems and services is mandatory for fulfilling the academic mission of the university and its constituents and granting the highest possible level of comfort to every LAU occupant, be it the students, faculty or staff."
Indeed, the high-tech computerized operation and monitoring of the load and power management not only guarantees better service to the university but also benefits the general community, thereby reasserting LAU's commitment to being a leader institution.
"LAU has built a state-of-the-art electrical infrastructure and tier-3 data center that support excellence in teaching, learning, research and administrative processes," says Roy Majdalani, vice president of Human Resources and University Services. "This also allows our students, faculty, and staff to prosper within a first-class institution of higher learning."An even more ambitious project was initiated at the Byblos campus in December. The result will be a centralized system encompassing a chilled water plant, a central power plant, a filtration plant, a major water tower with a capacity of 3500 cubic meters and a water treatment plant. Upon completion, scheduled for summer 2017, the new centralized system will enable the Byblos campus to operate at unprecedented efficiency levels.
At the Beirut inauguration, Assistant Vice President for Facilities Management Georges Hamouche conducted a guided tour of the two main electrical rooms on the Beirut Campus, the power plant station located on the outskirts of the Beirut campus main cluster and the new Data Center. "I would like to express my gratitude for the enormous efforts that led to this success and for everyone's collaboration in overcoming the challenges posed by this complicated project," said Hamouche, adding that despite excavations, demolitions and construction, the campus was kept fully functional. "This was made possible thanks to an outstanding team spirit among all the parties involved."