LAU Choir continues to give enchanting concerts since its debut in 1987
The annual Spring Choral Concert brought an uplifting mix of classical pieces and modern hits to the Beirut campus, ushering in a new season of performances.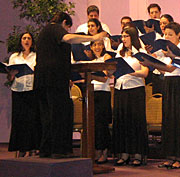 An energetic Leila Dabaghi leads the choir during a spirited Brazilian folksong at the Spring Choral Concert.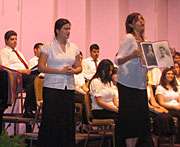 Maya Hobeika and Noura Badran in a theatrical rendition of Mozart's Ah Guarda, Sorella (Look, Sister).


Noura Badran and Jad Hobeika perform the duet of Verdi's Brindisi (Drinking Song).

View pictures of previous choral concerts illustrating how the LAU choir evolved over time.
Beirut, 1987. Only a handful of the city's residents remained in defiance of the years of street fighting and violence that had damaged it beyond recognition.

LAU (then called BUC), like other universities in the city, had lost most of its foreign staff and was mostly accessible to people who lived in the surrounding areas.

As a brief respite from such desolation, one December night, harmonious voices began to fill the solemn winter air and soft piano melodies trickled through the thick dark like so many raindrops of hope. The LAU Choir was born.

"There hadn't been a Christmas concert for a long time in Ras Beirut," remembers Leila Dabaghi, the Choir's director. At that time, the LAU campus could not host the event due to the war. "We rented the [AUB] Assembly Hall. The concert was advertised by word of mouth only, with a few posters, but [the hall] was packed," Dabaghi adds.

Over 20 years since its debut, the LAU Choir has gone from strength to strength, giving annual concerts. It now boasts 24 dedicated members from both inside and outside of LAU, who Dabaghi mentors both personally and collectively.

Dabaghi's extensive experience encouraged LAU to bring her on board in the mid-1980s to teach electives in music as well as start a new choir after the previous one, Orpheus, had been discontinued.

Though now retired from teaching, Dabaghi is still intimately involved in the choir, which she describes as a "full-time job."

"Leila has a lot to give. We are very lucky to work with her," says soprano Maya Hobeika, an LAU business graduate. Hobeika, who works as an accountant in LAU's office of the assistant vice president for Finance, has been with the choir for seven years and trains with Dabaghi almost every day.

Along with Dabaghi's guidance, the singers enjoy a family atmosphere. Cyril Nehmé, a first-year film student at LAU who sings bass, describes the atmosphere as one of "brotherhood." "We're more than friends, and we really enjoy what we sing," he says.

On the evenings of June 10–11, the Choir gave its annual spring concert. Dabaghi and the musicians overcame organizational hurdles, including end-of-year exams and election anxiety, and put on a splendid show.

The auditorium of Irwin Hall, Beirut campus, reverberated with an uplifting mix of classical pieces from Mozart, Handel and Schneider. The singers also broke away from the standard choir setup by some acting as they sang catchy modern hits such as "Anything You Can Do" from the musical Annie Get Your Gun.

The concert ended with a spirited rendition of two Brazilian folksongs, in which accompanying pianist Fadi Khallab was joined by Bassam Badran on the drums.

Though broad in scope, many of the pieces performed during the concert were linked in their commemorative function. Compositions by Haydn and Handel were chosen in honor of the bicentennial and 250th anniversaries respectively of their deaths, while several pieces from Mendelssohn were included to mark the bicentennial of his birth.

When putting together the choir's repertoire, Dabaghi chooses music that is close to her heart. "If I fall in love with pieces of music then I dream of performing them," she says.

And although some of the difficult pieces take a lot of time and work to perfect, Dabaghi considers the whole endeavor to be a teaching experience. "Sometimes these pieces are extremely tough, such as Handel's Wretched Lovers. But I use them as one rung on a ladder so the singers can climb up to the next."