LAU's department of design celebrates international competition win
Compendium, a booklet presenting LAU Byblos graphic design students' works, competes and gets recognition.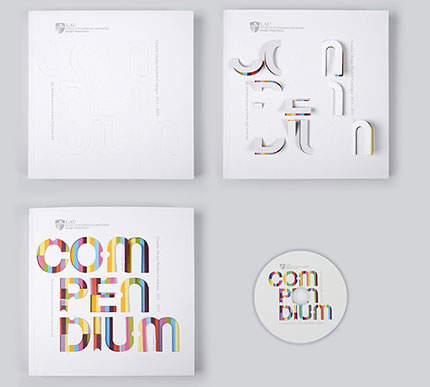 Update: Compendium has received a Merit Award for the Graphis Competition: Design Annual 2015. It was one of the 13 selected catalog design entries. Graphis is an international journal of visual communication and Compendium is showcased within their online gallery of competition winners.
A book designed by three members of the LAU School of Architecture and Design (SArD) has recently been selected as a winner in the professional graphic design category of art and design journal Creative Quarterly's annual competition.
"This is a win for all of us; Tarek [Khoury], Charbel [Harb], our students, LAU, and myself," said Dr. Melissa Plourde Khoury, art director of the winning entry 'Compendium', a collection of work from graphic design students of LAU's Byblos campus, where Plourde Khoury teaches together with fellow Assistant Professor Tarek Khoury. LAU graphic designer Charbel Harb also worked on the book, which won for its innovative cover.
"When people see this winning book published in Creative Quarterly, they will see that it was designed for LAU. Students will know they are studying under faculty whose designs are making a mark," said Plourde Khoury, who believes competition wins open doorways and provide international exposure.
Her colleagues agree. "This win is a huge leap forward for the department, launching us onto the international scene of creative publications," enthused lecturer Ruth Maalouf. "This is great news for the graphic design program in particular and LAU in general," added Dr. Yasmine Taan, chairperson of the department.
Plourde Khoury herself became associate chair last year, "around the same time I was producing the book. I took responsibility for it that year because I wanted it to be memorable."
That it was. The compendium's innovative cover design was its winning facet. "I had been inspired by an article I read about interactive print media and sought to create something that engaged the reader," says Plourde Khoury of the cover, which incorporates foldable cutout letterforms and vibrant colors in the design.
In addition to her work at LAU, where she has been teaching for seven years, Plourde Khoury works on commercial design projects. "Though I have been working on some poster designs for social causes, I have focused more on scholarly than commercial work the past couple of years." Very fond of her teaching and her students, Plourde Khoury actively encourages them to enter design competitions themselves. "They are more than students to me, I know them as individuals and like to provide them with opportunities and a personalized experience. Five of my students have won awards and competitions this past year."
Dr. Elie Haddad, SArD dean, is naturally pleased with the design department's wins. "All universities produce booklets to showcase student work, and it is very rare that such a book end up competing, let alone winning, an international competition. I am very proud."