LAU's First Annual Poetry Competition nurtures the embers of inspiration
Pleasant surprises all around as budding student poets are commended for their work.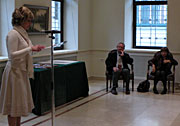 Abir Ward announces the winners as Dr. Kristiaan Aercke and Dean Samira Aghacy look on.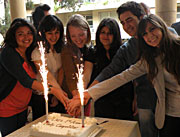 The winners celebrate together. From left: Razan Niazi, Sara Sibai, Ieva Saudargaite, Farah Kassem, Youssef Feghali and Soha Awwad.
Upon hearing that she had won not only one but a staggering four prizes in the Arabic category of LAU's First Annual Poetry Competition, Soha Awwad was shocked.

"Al Najida is about how I don't want to be a poet," pharmacy student Awwad said. "So I didn't expect that they were going to make this the first prize" winner.

Her surprise was echoed by many of the winners at the award ceremony held on April 24 in Irwin Hall, Beirut campus.

For many of the students, this was the first time their work received public acknowledgment.

"I didn't expect to get any recognition," said Razan Niazi, whose poem Asaa won an honorable mention in the Arabic category. "I've been writing for a very long time, and the recognition made me feel good. It made me feel like I can do more, I can write more. I should write more," added Niazi.
    
The competition was inspired by Abir Ward, an LAU comparative literature master's student who's working as a part-time instructor as part of her graduate assistantship.

Ward describes the first time she won a national student poetry competition in the U.S. as "a moment of validation." It motivated her to take her writing more seriously. She began to take and, eventually, teach poetry classes.

On returning to Lebanon, Ward was committed to organizing an event that would offer a similar opportunity to LAU students.

The project received instant support from Dr. Kristiaan Aercke, chair of the Humanities Department, and Dr. Samira Aghacy, dean of the School of Arts and Sciences, and herself a published poet.

"My immediate reaction to Abir's idea was positive," said Aercke. He added that the event was particularly timely considering that Beirut is the World Book Capital 2009.

The organizers had initially thought that the competition should have a theme. But eventually they decided that the priority should be to encourage students to submit old and new poems regardless of subject matter to increase their self-confidence.

The submissions were judged anonymously by four LAU faculty members: Dr. Tarif Bazzi and Dr. Vahid Behmardi from the Arabic literature program, and Dr. Aercke and Dr. Kenneth Seigneurie from the English literature program.

Students were invited to submit a maximum of 10 pieces in four categories: English metric, English free verse, Arabic metric, and Arabic free verse.

"We received 172 poems, a response which far exceeded our expectations," said Aercke.

Another surprise was that the majority of participants, and winners, were students majoring in medicine, engineering and architecture, not literature. According to Ward, this reflects the importance of providing students with the space and confidence to develop their poetic inspiration.

"Freedom is the essence of poetry," said Awwad. "Poetry is the place where you can say anything, be anyone and imagine the impossible," she added.

Ward laments the "dwindling character" of poetry in Lebanon. She feels it is a shame that poetry, a model of expression which can function as a coping mechanism and even provide healing effects, is increasingly scarce in Lebanon, despite the ongoing problems.

Along with promoting self-confidence and reviving poetry, Ward hopes that the enthusiasm generated by the competition will yield a series of poetry and creative writing classes at LAU.

"This competition is the first step to cultivating poetic talent," she said.

Aghacy reinforced this spirit of encouragement and perseverance during her award ceremony speech: "Can you envisage the wide and unbounded horizons that poetry opens up and makes possible? This is my advice to you: Keep going, and don't stop writing."