Found in translation
Student and participant Hoda Hilal depicts LAU's International Translation Day as a milestone in her and her fellows' academic year and professional path.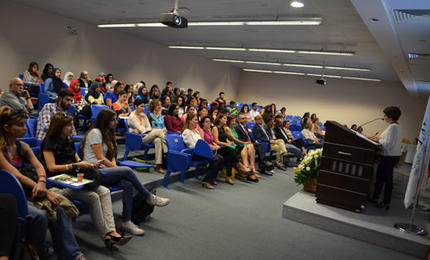 Through student eyes
My heart was filled with joy and pride as I witnessed fellow translation students, alumni, professors, publishing houses and translation companies get together in celebration of the International Translation Day last Friday. The B.A. in Translation program has been continuously proving its success, this time by hosting a lecture by renowned linguist Salam Diab-Duranton. LAU Beirut turned into a hub where professionals and students interacted and shared their love for translation.
"This annual event pays tribute to translators around the world and showcases translation as the promoter of understanding and respect among different cultures of the world, eliminating stereotyping and racism," said Nuwar Diab, associate professor of English and Applied Linguistics and director of the program.
Chair of the Humanities Department Paul Tabar acknowledged the importance of translation as "a weapon of communication in the face of terrorism, wars, and destruction." He compared translators to "soldiers in the fight against cultural and linguistic regression."
For her part, Diab-Duranton considered this day a combination of appreciating, learning and practicing translation. "LAU has always been the first among many universities not only in developing its translation program, but also in its teaching methods and student-centered approaches," she commented. The expert highlighted the importance of the exhibition held in parallel to the event, which aimed to kindle the students' love for learning by providing books and dictionaries they may not find elsewhere.
In her lecture, Diab-Duranton shed light on French orientalist and archeologist Antoine Galland's role in introducing the Eastern culture and its Arabic literature to Europe ― notably through his translation of One Thousand One Nights from Arabic to French ― as well as turning the French language into one of culture and intellect. She, herself, is currently documenting Galland's manuscripts that are stored in the National Library of France in order to preserve the work of the translator who fostered an understanding and appreciation of the Arabic language and culture overseas. "This is my second time lecturing at LAU, and it is the second time I notice the students' passion, curiosity, and commitment which proves the enthusiasm of the Lebanese youth, especially girls," she declared proudly.
Translation students and alumni were thrilled with the exposure to the job market provided at the event. Takla Al Katoul Al Rahbani, my fellow classmate and second year translation student, stressed that this event "shows that LAU is interested in giving us practical and not just theoretical and academic knowledge, as well as introducing us to potential employers so that we have more work opportunities in the future."
Diab pointed out that the program is attracting graduates from other fields, because its Arabic-English nature is giving those who do not know French the chance to pursue this degree. Moreover, it is designed to promote translation as an academic discipline rather than a career for linguists only.
Personally, I had the chance to speak to several people, such as ESCWA representatives who assured me that securing employment at the UN is not an impossible dream, and other employers who praised the performance of their LAU interns, which made me feel both proud and hopeful. Now I have a clear idea of where to start if I want to seek employment or internship opportunities.
As our special day came to an end, we were left with a sense of fulfillment for having been set on the right track from the beginning of our journey. Dima Fakhreddine emphasized this point, "As a first year translation student, it is very important for me to know the different fields that I might work in, meet my prospective employers and ask professionals about the nature of my future work. Today LAU made all that possible."
Hoda Hilal is a second year translation student.