LAU's Safadi building among "Beirut's most exciting"
Website ArchDaily features LAU's Safadi Fine Arts building among 12 of Beirut's architectural gems.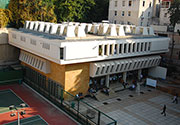 The Safadi Fine Arts building's architects were influenced by late modernism with aspects of Islamic architecture.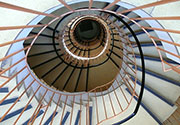 The stairs of the Safadi Fine Arts building.
Click on any photo for larger version.
Fifth year architecture student Ramzi Naja recently published an article in ArchDaily, an online site featuring the latest architectural news, about Beirut's most "exciting buildings." Entitled "Architecture City Guide: Beirut", the article features 12 of the city's architectural gems. Among them, LAU's own Safadi Fine Arts Building.
"They have an internship program at ArchDaily, so I decided to apply, not really expecting to get it, and then I got it," said Naja. "I had this idea for the article and after a lot of back and forth with the editors, it was published."

Naja says many of the buildings he selected he had studied in a class about the evolution of architecture in the city, taught by Dr. Abdallah Kahil, SArD assistant professor and the director of the Institute of Islamic Art and Architecture.
Kahil says the course - "20th Century Architecture in the Middle East" - was designed to increase students' knowledge of their immediate architectural history, and is the first university course in Lebanon that covers that subject. "Ramzi Naja benefited from this exposure, including the texts we studied and the field trips," said Kahil.
Buildings on university campuses rank prominently among the dozen selections, but unlike the relatively new AUB's Charles Hostler Student Center or USJ's Campus of Sport and Innovation, the Safadi building, completed in 1970, constitutes a landmark in a debate about identity of architecture in Lebanon and the Arab world in the late sixties.
At that time, a tendency to look at the vast heritage of Islamic architecture in the region triggered varieties of experimentation in design. The architect, Samir Khairallah, along with Pierre Neema, the late Assem Salam, and others were influenced by late modernism with aspects of Islamic architecture. This was characterized, as in the Safadi building, by the use of some compositional concepts in Islamic architecture in a highly stylized manner that maintain the spirit of the design without looking derivative.
After extensive renovations funded by the Safadi Foundation, the building was re-dedicated in 2004 and now houses the Communication Arts Program.
"These places are where you learn, so they are a representation of the future and they house the students that are the future of the country," says Naja who currently works at a design firm called PolyPod. A fresh graduate, he plans to continue working in Lebanon for another year before pursuing graduate studies in the U.S.
As an architect, Naja favors public projects and hopes to have the chance to work on some. "Privatizing space is not a sustainable solution. Most of the buildings from my guide have rooftop space or a public square in center or behind the building."
"Thank you for including our Fine Arts Building," said President Joseph G. Jabbra. "Keep on looking to the future with this critical eye that you have, build to better serve the community and innovate. We are so proud of you."